STORY HIGHLIGHTS
Egypt's de facto ruler meets with military council in emergency session
"A travesty," Egyptian reform leader Mohamed ElBaradei says
Voting begins Saturday
A former Mubarak prime minister faces a Muslim Brotherhood candidate
Cairo (CNN) — Somebody with a sense of humor has painted "Opening Soon" on the wreckage of the building that served as the headquarters of Egypt's ruling National Democratic Party until January 2011, when it was burned — a symbol of a hated regime.
The implication — that the old bosses linked to ousted President Hosni Mubarak are about to move back into their former headquarters — may be on target.
With the dissolution this week of parliament — the power base of the Muslim Brotherhood and its candidate, Mohamed Morsi — former Prime Minister Ahmed Shafik has a good shot at winning this weekend's runoff vote for president.
That's a prospect that angers some protesters here.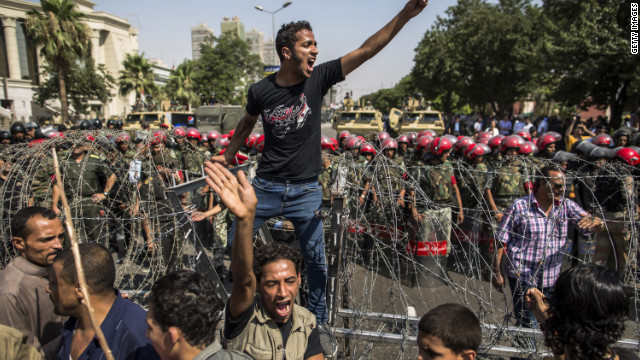 A protestor stands on a barricade of barbed wire as Egyptian military police stand guard. Egypt's Supreme Constitutional Court ruled that the Islamist-led parliament must be immediately dissolved.
An Egyptian boy waves his shoes as he joins supporters of the Muslim Brotherhood in a protest in Cairo's Tahrir Square against Mubarak-era prime minister and presidential candidate Ahmed Shafiq after Egypt's top court rejected on Thursday a law barring him from standing in a tense presidential poll runoff.

1000
rs gesture towards military police through a barricade of barbed wire during a protest against presidential candidate Ahmed Shafiq outside the Supreme Constitutional Court on Thursday.
Protesto
People walk past graffiti showing faces of ousted Egyptian president Hosni Mubarak, right; Field Marshal Hussein Tantawi, second right; former Secretary General of the Arab League Amr Mussa, second left, and former prime minister and presidential candidate Ahmed Shafiq, left, at Tahrir square.
A boy peers through barbed wire at Egyptian military police standing guard outside the Constitutional Court in Cairo on Thursday, June 14.
Presidential candidate Mohamed Morsi of the Muslim Brotherhood, who is set for a runoff election against Ahmed Shafiq, speaks at a press conference in Cairo on Wednesday, June 13.
Former Prime Minister Ahmed Shafiq, center, is seated before addressing a business conference in Cairo on Wednesday.
Egyptians read the front page of newspapers for sale outside of Al-Fatah Mosque in Cairo on Friday, May 25.
Ballots are counted by election officials in Alexandria as the country eagerly awaits the outcome Friday.
A supporter of presidential candidate Abdelmonen Abol Fotoh voices her opinions at Tahrir Square on Friday.
Supporters of various candidates debate outside Al-Fatah Mosque in Cairo on Friday.
Electoral officials monitor voting in Namul, a village north of Cairo, on Thursday, May 24, the second and final day of voting in Egypt's historic presidential election. Egypt is holding its first presidential election since last year's toppling of Hosni Mubarak, part of the wave of Arab Spring uprisings.
Egyptian women wait in line Thursday to cast their vote outside a polling station in Cairo. If no candidate gets a majority of the vote in the first round of voting, a second round will be held June 16-17.
An election worker checks the identification of a voter at a polling place Thursday in Namul as Egyptian soldiers stand guard.
A soldier stands watch in the Egyptian capital on the second day of voting. A pervasive fear exists that the powerful military, which has run the country since Mubarak's fall 16 months ago, could try to hijack the election.
An Egyptian man waits to cast his ballot Thursday north of Cairo. The vote is considered Egypt's first free and fair presidential election in modern history.
An Egyptian man drops off his ballot at a polling station Thursday in Cairo. The voting marks the first time Egypt has held a presidential election in which the results aren't known beforehand.
An Egyptian woman holds up an ink-stained finger after casting her ballot in Cairo on Wednesday, May 23, the first day of voting in the historic election.
A voter studies her ballot Wednesday in Cairo. Thirteen candidates are competing in the wide-open race, but two withdrew after ballots were printed.
Egyptian men fill out their ballots Wednesday in Cairo. Results of the first round of voting are not expected before the weekend.
An Egyptian man casts his ballot at a Cairo polling station. Some Egyptians told CNN that they waited up to four hours Wednesday to vote.
Egyptian men shield themselves from the hot sun outside a Cairo polling station Wednesday.
Egyptian men line up to cast their vote Wednesday in Cairo. Some 30,000 volunteers fanned out to ensure voting is fair, said organizers with the April 6 youth movement, which has campaigned for greater democracy in Egypt.
Egyptian men fill out their ballots at a Cairo polling place.
Presidential candidate Hamdeen Sabahy, a leftist dark-horse contender, flashes a sign of victory as he waits to vote at a Cairo school.
Presidential candidate Abdelmonen Abol Fotoh, a moderate Islamist, casts his ballot Wednesday in Cairo.
An Egyptian Coptic nun drops her ballot at a Cairo polling station Wednesday.

1000
tation in Cairo. Many Egyptians seem uncertain of their loyalties to any particular candidate.
Egyptian women wait outside a polling s
Political turmoil in Egypt
Political turmoil in Egypt
Political turmoil in Egypt
Political turmoil in Egypt
Political turmoil in Egypt
Political turmoil in Egypt
Political turmoil in Egypt
Political turmoil in Egypt
Political turmoil in Egypt
Political turmoil in Egypt
Political turmoil in Egypt
Political turmoil in Egypt
Political turmoil in Egypt
Political turmoil in Egypt
Political turmoil in Egypt
Political turmoil in Egypt
Political turmoil in Egypt
Political turmoil in Egypt
Political turmoil in Egypt
Political turmoil in Egypt
1000
Political turmoil in Egypt
Political turmoil in Egypt
Political turmoil in Egypt
Political turmoil in Egypt
Political turmoil in Egypt
Political turmoil in Egypt
Political turmoil in Egypt
Political turmoil in Egypt
HIDE CAPTION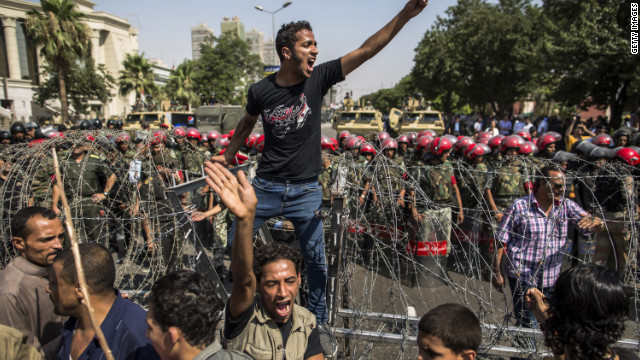 Political turmoil in Egypt
"I'm boycotting the election," said a woman who stomped and spat on Shafik's poster. "But I say 'No' to him, 'No' to anybody from Mubarak and his scandals, any dog with his scent. We say 'Down with Mubarak and whoever protects him.'"
But many of the other 50 million Egyptians eligible to vote prepared to go to the polls Saturday to participate in the historic runoff election.
The vote gets under way two days after the court ruling that dissolved parliament and raised questions about whether the military will relinquish power.
Egypt's military council formally dissolved parliament Friday, in line with Thursday's ruling from the nation's top court, which declared the legislative body invalid.
The Supreme Council of the Armed Forces — the military rulers in control of the country since Mubarak was ousted as president in February 2011 — claimed full legislative power after the High Constitutional Court ruled that the constitutional articles regulating parliamentary elections were invalid.
Gen. Hussein Tantawi, the head of SCAF and Egypt's de facto ruler, met Friday in an emergency session with the council to discuss drafting a new constitution. The council is expected to issue its own interim constitutional charter.
Shafik, who served briefly as prime minister under Mubarak, and Morsi emerged from the first round of voting in late May to advance to the runoff, in which Egyptian voters are to choose the country's first democratically elected president.
Polling sites will be open on Saturday and Sunday from 8 a.m. (2 a.m. ET) until 8 p.m. (2 p.m. ET). Votes must be counted by Monday. Final results must be announced by Thursday.
The Supreme Presidential Electoral Commission has approved licenses for 53 organizations to observe the elections, including at least three international groups — the U.S.-based Carter Center, the South Africa-based Electoral Institute for Sustainable Democracy in Africa and the Arab Network for Monitoring of Ele
1000
ctions.
The election of a president without a parliament means that the winner will wield extraordinary power, dealing directly with the military rulers while a new constitution is written and until new parliamentary elections are held.
Some regarded the dissolution of parliament as a political move since the body was dominated by Islamists, a group long viewed with suspicion by the military.
The court ruling was "a complete coup d'etat through which the military council is writing off the most noble stage in the nation's history," said Mohamed el-Beltagy, a senior member of the Muslim Brotherhood's Freedom and Justice Party.
The group accused the military council of "trying its best to stay in power as long as they can in order to safeguard their interests, and we will not accept that at all," according to a Facebook posting.
In its ruling, the high court cleared the way for Shafik to run after rejecting a law that barred members of Mubarak's regime from office. The court decreed that the rules governing the recent parliamentary elections were invalid. It tossed out a popularly elected parliament in which about half the seats were controlled by Islamists.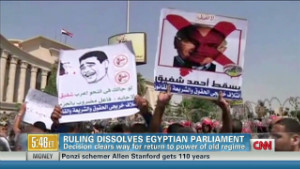 Tensions high before Egypt runoff vote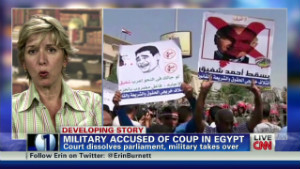 Is U.S. fiddling while Egypt burns?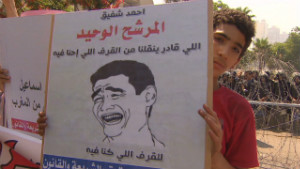 Egypt's political storm intensifies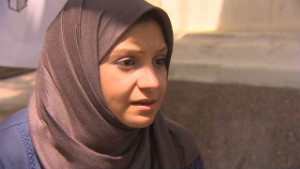 Egyptian street fighter vies for change
Analysts: 'Soft coup' court ruling could reignite Egyptian revolution
The court also invalidated a law that would have barred Shafik from running based on his affiliation with Mubarak.
It's unclear what authority the new president will hold. Egypt now has no constitution to guide the government or define the president's authority.
"It's nothing more than a soft military coup that's taking place," said Jihad Hadad, a spokesman for the Morsi campiagn. He derided the court's decision as "full of legal loopholes." But he said the only way Shafik could emerge victorious would be through "mass rigging" of the vote.
A spokesman for SCAF, Maj. Mohamed Askar, said 14,000 judges will supervise the elections nationwide, and the ballots will be secured by both the police and the armed forces.
Wild election weekend for Egypt, France and Greece
Egyptian reform leader Mohamed ElBaradei, who himself had considered a presidential run, took to the social networking service Twitter on Thursday to call on the government to postpone the election.
"Electing president in the absence of constitution and parliament is electing an 'emperor' with more powers than deposed dictator. A travesty," he wrote.
In the Cairo suburb of Mohandisiin, hundreds of demonstrators took to the streets to express their unhappiness with the ruling. "The people want to bring down the regime," some chanted, reprising the same phrase that had served as a soundtrack to the protests that drove Mubarak from power. Others tore down a Shafik poster.
The revolution still has a long way to go, said Amal Mahmoud, a bank worker. "We didn't topple the regime," she said. "We didn't purge the judiciary, the official media or the Interior Ministry."
"All that's happened in the last year and a half is that they've fooled us," said Wael, a student. "They talk about carrying out reforms, but we don't want reforms. We want to completely change the r
fff
egime."
The Muslim Brotherhood called the rulings a "final forceful and desperate push trying to circumvent the will of the people." The party said Morsi is facing the election with "renewed resolve."
Activists call for protests on eve of Egypt's presidential runoff
The court decision raised the specter of renewed street protests over concerns that Egypt's ruling military council may not hand over power to a popularly elected civilian government, as it has promised to do.
"I hope that it passes peacefully regardless of the outcome, whether it's Morsi or Shafik," said voter Gamal Mahmoud after Friday prayers. "This is the choice of the people."
Another voter, Mohamed Ali, said he was not troubled by the decision to dissolve parliament.
"And I believe the people will choose the exact same people again," he said.
About 50 million polling cards have been distributed to polling places, according to Hatem Begato, the secretary general of the Higher Presidential Electoral Commission.
Egyptians living outside the country finished voting on June 9, according to the commission. Shafik led among Egyptians voting in Lebanon, Tunisia, Greece, Austria and Sierra Leone, according to the commission.
Morsi was leading among expatriates voting from Bangladesh, Sri Lanka, Malaysia, Jordan, Ethiopia, Yemen, Germany, Russia, Algeria and Sudan, the group said last week.
Are you there? Share your story on CNN iReport.
CNN's Amir Ahmed, Ben Wedeman and Ivan Watson contributed to this report.
Continued: