Bahrain teen killed in clashes with police
By the CNN Wire Staff
August 18, 2012 — Updated 0552 GMT (1352 HKT)
STORY HIGHLIGHTS
State media say the teen attacked the police
Activists dispute that account,
1000
saying the teen was unarmed
The death comes after a prominent activist was sentenced to three years in prison
(CNN) — A Bahraini teenager died after clashes with authorities who used excess force, human rights activists said Saturday.
The death Friday night comes a day after a prominent activist was sentenced to three years in prison for participating in anti-government protests.
Officials said the boy was killed after he attacked police Friday in the city of Muharraq, state-run Bahrain News Agency said.
"According to authorities, terrorists launched petrol bombs at close range, forcing the police to take the necessary actions to defend themselves and innocent bystanders from the potentially lethal attack," the news agency said. "Sixteen-year old Hussam Al-Haddad has been identified as being involved in the terror act, at which time when he was injured."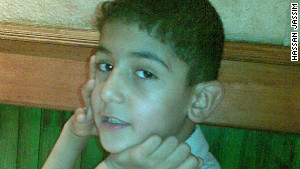 Boy, 11, acquitted over Bahrain protest
Activists disputed the account.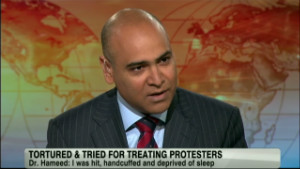 Tortured and tried in Bahrain
"The Ministry of Interior issued a statement confirming the death of a citizen tonight," the Bahrain Center for Human Rights said. "However, they stated that MOI security forces were defending themselves by following legal procedures, calling Hussam Al-Haddad a 'terrorist.' They neglected to mention that the security forces were armed and have caused the death of an unarmed 16-year-old."
Unrest started in Bahrain in February 2011 spurred by popular uprisings in Tunisia and Egypt.
But the protests failed to gain the traction of other Ar
1000
ab Spring uprisings after Bahraini authorities moved against demonstrators in February and March last year — backed by troops from Saudi Arabia and the United Arab Emirates.
Protesters and Bahraini authorities have continued to clash, with the opposition accusing the government of being heavy-handed.
The death of the teen comes a day after the Bahrain court sentenced prominent activist Nabeel Rajab to three years in prison "for participating in illegal rallies and gatherings."
The sentence raised concerns from European Union officials who called for Bahrain to reconsider its length.
CNN's Amir Ahmed contributed to this report

Part of complete coverage on
August 17, 2012 — Updated 0623 GMT (1423 HKT)

Asia is set to have the world's wealthiest residents, with city-state Singapore heading the rich list.
August 16, 2012 — Updated 1334 GMT (2134 HKT)

1001
Gu's one-day trial was a spectacle for the benefit of the public, says Donald Clarke.
August 17, 2012 — Updated 1525 GMT (2325 HKT)

Take a look at the 10 best entries for the New Scientist Eureka Prize for Science Photography.
August 17, 2012 — Updated 1711 GMT (0111 HKT)

The cause of transparency is bigger than the legal troubles of one brilliant, flawed individual, says Micah Sifry.
August 16, 2012 — Updated 1205 GMT (2005 HKT)

CNN's Ben Wedeman was in Aleppo as the Syrian regime attacked a rebel-controlled hospital from the air.
August 16, 2012 — Updated 1128 GMT (1928 HKT)

Microsoft's popular Kinect for Xbox 360 has inspired countless ingenious "hacks" to create novel devices.
August 16, 2012 — Updated 0413 GMT (1213 HKT)

According to a report released by the Enough Project, an advocacy group, metals from the Congo are getting less bloody.
August 16, 2012 — Updated 0801 GMT (1601 HKT)

42 nations around the world require graphic warning labels on cigarettes — see some of them here.
August 13, 2012 — Updated 1554 GMT (2354 HKT)

The new President of Egypt is taking the concept of getting work done in the first 100 days in office very seriously, says CNN's John Defterios.
August 13, 2012 — Updated 2124 GMT (0524 HKT)

With extreme heat and the worst drought in half a century there are important lessons to be learned for all of us, says Michael Roberts.

17f
Today's five most popular stories
55f
fd
72

6f
2a5
View article -