China holds 'frank' talks with North Korea after satellite announcement
By Jaime A. FlorCruz, CNN
March 20, 2012 — Updated 1147 GMT (1947 HKT)
STORY HIGHLIGHTS
North Korea's announcement of a satellite launch has provoked alarm
China says it held 'frank' talks with Pyongyang on the situation in the region
Japan says it is considering destroying the launch rocket, if it poses a risk
Beijing (CNN) — China says it has had "a frank, in-depth talk" with North Korea about the situation on the Korean Peninsula after Pyongyang's announcement of a planned satellite launch provoked an international outcry.
Wu Dawei, China's special representative for the Korean Peninsula, met with Ri Yong Ho, a senior North Korean nuclear negotiator, in Beijing on Monday.
Wu told the Chinese broadcaster CCTV that he and Ri had exchanged "opinions on the topic of preserving the peace and stability of the Korean Peninsula," as well as on Pyongyang's planned satellite launch.
China appears to be putting pressure on North Korea over the plan to fire off a long-range rocket that the North says will carry the satellite into orbit.
South Korea has called the announcement a "grave provocation" that contravenes U.N. Security Council resolutions.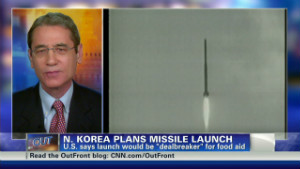 North Korea plans missile launch
And the Japanese defense minister, Naoki Tanaka, said Monday that he would consider ordering the destruction of the projectile if it presented a risk to Japan.
Chinese Executive Vice Foreign Minister Zhang Zhijun expressed "concern" when he met North Korean ambassador Ji Jae Ryong on Friday, the official Xinhua News Agency reported over the weekend.
"We sincerely hope parties concerned stay calm and exercise restraint and avoid escalation of tension that may lead to a more complicated situation," Xinhua quoted Zhang as saying.
China rarely puts public pressure on its northern neighbor, which relies on Beijing's political, economic and diplomatic support.
North Korea announced Friday that it plans to launch a satellite into space next month to mark the 100th anniversary of the birth of its founder, Kim Il Sung, grandfather of Pyongyang's new leader Kim Jong-un.
The United States says the rocket launch would be a "deal-breaker" for a recent aid agreement between the United States and North Korea.
In closed-door meetings partly brokered by China, North Korea last month agreed to stop nuclear tests, uranium enrichment and long-range missile launches in exchange for resumption of U.S. food aid.
The announced missile launch also could derail recent efforts to reconvene the multilateral talks, known as six-party talks, on denuclearizing North Korea.
The launch is expected to take place April 12 to 16. North Korea says it plans to invite experts and the media to observe the launch.
Pyongyang has also invited the International Atomic Energy Agency to return, nearly three years after it kicked U.N. nuclear inspectors out of the country, the IAEA said Monday.
CNN's Junko Ogura and Jethro Mullen contributed to this report.

Part of complete coverage on
March 16, 2012 — Updated 1547 GMT (2347 HKT)

Until his dismissal, Bo Xilai was considered a strong contender for the committee whose nine members decide how to run China.
March 9, 2012 — Updated 0247 GMT (1047 HKT)

Watch out, America: China is steadily catching up in space. This year the country plans to launch a manned spacecraft.
February 24, 2012 — Updated 0928 GMT (1728 HKT)

Entrepreneurs of all stripes are cashing in on the Lin-sanity phenomenon as swiftly as the NBA sensation can pull off his furious fast breaks.
February 10, 2012 — Updated 0252 GMT (1052 HKT)

China will sometimes say "no" and the world should get used to it. The country's rulers are not shy about using their veto.
February 16, 2012 — Updated 0208 GMT (1008 HKT)

Xi Jinping, son of a Mao-era revolutionary hero, and a pro-economic reform statesman is seen as President Hu Jintao's heir apparent.
February 17, 2012 — Updated 0635 GMT (1435 HKT)

Jeremy Lin's success in the NBA has prompted a spate of "gee-whiz" stories and added "Linsanity" into everyday lexicon.
January 27, 2012 — Updated 0630 GMT (1430 HKT)

Beijing ushered in the Year of the Dragon with a bold move: more detailed reporting of air quality information from a city famed for its smog.
January 20, 2012 — Updated 0839 GMT (1639 HKT)

Until four years ago, farmer Zhou Jie and his family lived in rural Anhui province, growing grain and other staples on a small plot of land.

Today's five most popular stories

Visit link: