STORY HIGHLIGHTS
NEW: CNN projects Rick Santorum wins Alabama, Mississippi primaries
NEW: Santorum: "We did it again"
NEW: Mitt Romney had said Santorum's campaign was reaching a "desperate end"
The pressure was on Newt Gingrich to continue wins in South
(CNN) — Rick Santorum will win Tuesday night's Alabama and Mississippi GOP presidential primaries, CNN projects — a blow to Newt Gingrich, who had hoped to win another state in his home region, and a retort to Mitt Romney, who earlier in the day said Santorum's campaign was reaching a "desperate end."
With 96% of the vote counted in Mississippi, Santorum had 33%. Newt Gingrich was at 31%, Romney at 30% and Ron Paul at 4%.
In Alabama, with 79% of the vote counted, Santorum led with 35%, followed by Gingrich at 30%, Romney at 28% and Paul at 5%.
"We did it again," Santorum told supporters Tuesday night in Lafayette, Louisiana, which will hold a GOP primary on March 24.
Santorum, whose Alabama and Mississippi victories give him 10 wins to Romney's 16, poked at the front-runner as he reiterated his stance that he is the viable conservative alternative to the former Massachusetts governor.
"People say you're being outspent (by Romney) and everybody's talking about all the (delegate) math, and that his race is inevitable. Well, for someone who thinks this race is inevitable, (Romney) has spent a whole lot of money," Santorum told supporters.
Earlier in the day, Romney said Santorum's campaign was trying to resuscitate a losing effort.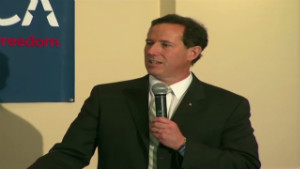 Santorum camp looks to 'KO' Gingrich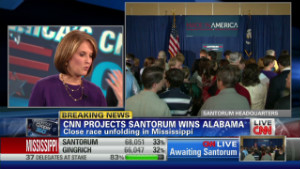 Analysts: Alabama win a surprise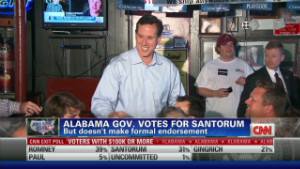 Alabama governor votes for Santorum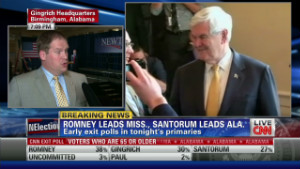 Gingrich campaign pushing on
"Sen. Santorum is at the desperate end of his campaign, and trying in some way to boost his prospects," Romney said on CNN's "The Situation Room." "Frankly, misrepresenting the truth is not a good way of doing that."
As news was breaking of Santorum's win in Alabama, Santorum communications director Hogan Gridley replied to Romney's statement saying, "It's just the beginning."
Santorum, a former senator from Pennsylvania, is coming off a big win in Kansas on Saturday and will be giving himself a bigger boost in the battle to be the conservative alternative to Romney by beating Gingrich in Alabama, in Gingrich's home turf in the South. The win will be somewhat of a surprise, because polls released Monday showed Santorum running 8 to 10 points behind Romney and Gingrich in Alabama and Mississippi.
Romney, the front-runner in the GOP contests nationwide so far, was hoping for a victory in a region dominated by social conservatives, who have been hesitant to support his candidacy.
Gingrich, the former House speaker, was under the most pressure to take both states. He has won contests in South Carolina and Georgia, which he represented in Congress for two decades, but has finished third or worse in most contests outside the region.
Mississippi and Alabama polls were closed by 8 p.m. ET. Hawaii and American Samoa also hold caucuses Tuesday.
Forty-seven delegates are up for grabs in Alabama, with 37 at stake in Mississippi, all being divided proportionally. Both states hold open primaries, which mean Republicans, independent voters and Democrats can cast ballots in the GOP contests. Seventeen delegates are to be allocated in Hawaii and nine in American Samoa.
Delegate tracker | Delegate calculator
Gingrich has campaigned intensively in Alabama and Mississippi over the last week.
"He's got to do extremely well in Alabama and Mississippi just to stay in the race," Alabama Republican Party Chairman Bill Armistead said on CNN's "Starting Point" Tuesday morning.
After polls closed Tuesday evening, Gingrich's chief of staff, Patrick Millsaps, indicated Gingrich was in it for the long haul even if he didn't win both Southern states.
"We're not even at the halfway mark of this campaign season. Louisiana will be the halfway point. … I think we will do well in the South (and) pick up delegates no matter where we are," Millsaps said.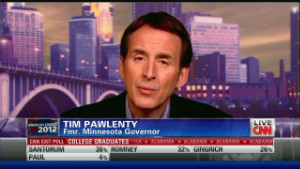 Pawlenty discusses Romney electability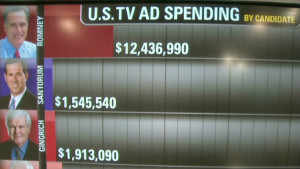 Romney outspending competition 2 to 1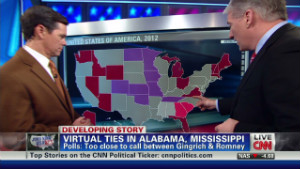 Looking ahead at Alabama and Mississippi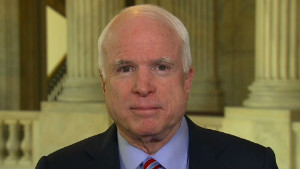 McCain: 'Romney will win the South'
"Mitt Romney has spent 10-to-1 money against Rick Santorum and Gingrich, and can't close the deal. He's not at the halfway mark for delegates. So there's going to be a long path to (the GOP convention in) Tampa, and I think you're going to see us there," Millsaps added.
Romney downplayed expectations before polls closed Tuesday. Speaking to reporters in Missouri, where he was campaigning ahead of this month's caucuses there, he said he expected to take about a third of the 84 delegates up for grabs in Alabama and Mississippi.
"If that's the case, why, that inches us closer to that magic number," Romney said.
Romney's campaign has been holding up its large lead in delegates as a reason for Gingrich and Santorum to get out of the race.
Romney still is far short of the 1,144 delegates needed to clinch the nomination — he holds a 459-203 lead over Santorum, with Gingrich at 118 and Paul at 66, according to a CNN delegate estimate.
Exit polls from Alabama and Mississippi show that Romney still has some ground to make up to win over conservatives: In Alabama, 55% of those polled said Romney's position on the issues wasn't conservative enough; in Mississippi, the number was 49%.
In another trend that has continued throughout the campaign, more voters see Romney as the best choice for defeating President Barack Obama in the general election, but that's not always the way the vote goes.
In Alabama, 46% saw Romney as being the most likely to beat Obama while both Santorum and Gingrich were the favorites of 24%; in Mississippi, 50% of those polled saw Romney as having the best chance of beating Obama, compared to 24% for Gingrich and 23% for Santorum.
As results were coming in Tuesday night, CNN chief political analyst Gloria Borger said that hard-core conservatives' persistent preference for Santorum or Gingrich means Romney benefits from the presence of both.
"Gov. Romney needs Rick Santorum and Newt Gingrich right now. … If it weren't for them splitting the conservatives — the very conservative, the evangelical, the tea party voters — Mitt Romney would not be within sort of a position to win in either of Mississippi or Alabama. So the fact that they're splitting the vote … he ought to pay them both to stay in for a little bit longer."
Before the Alabama and Mississippi results were known, a GOP strategist said Romney's lead makes it hard for anyone else to catch up.
"Given how far behind Santorum is from Romney with delegates, it looks like that path continues to dim every day, which is very challenging for his campaign to overcome, because they now need to get 65% of the delegates that are still available, and so that path probably doesn't exist, and if it does exist, then it needs to start with real wins and big wins in a hurry," said Doug Heye, a GOP strategist and a former communications director for the Republican National Committee.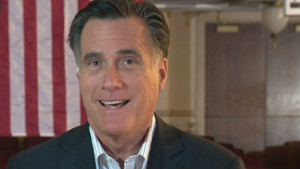 Romney: Santorum at end of campaign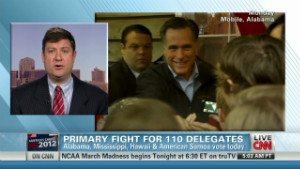 Saltsman: Gingrich has a lot to lose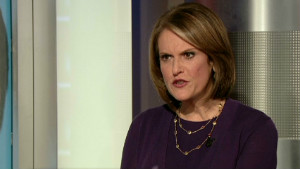 What's at stake in Southern primaries?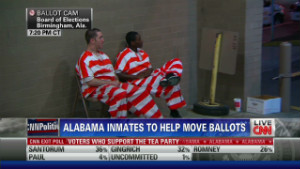 Alabama inmates help move ballots
But Santorum spokeswoman Alice Stewart said Romney's mathematics argument is "not very inspiring."
"What he is doing is, they have put out memos and talked about the fact it would be mathematically impossible for Rick Santorum to come out ahead in this fight, when the truth is that's nothing more than a smoke screen to demonstrate the fact that he is not inspiring the base. He is not in touch with conservatives," Stewart told CNN's "AC360."
"What we are letting folks know today is the math is still a long way out. Rick is the true conservative in this race. He is inspiring the base. And that's why he has got Mitt Romney up against the ropes."
Even if he doesn't win either Alabama or Mississippi, Romney will pick up delegates in both. Add to that a bunch of likely delegates in more moderate Hawaii, and Romney may expand his lead.
Romney was trying out his Southern charm while campaigning, saying last week on the campaign trail in Mississippi that he was "an unofficial Southerner" and joking that "I am learning to say 'y'all' and 'I like grits,' and things. Strange things are happening to me."
Romney's campaign and a pro-Romney super PAC have combined to spend nearly $2 million to run TV commercials in the two states. Southern comedian Jeff Foxworthy also joined him on the campaign trail on Monday.
"I was able to avoid politics for 53 years and somebody said, 'Why in the world would you get into it now?' and the answer is it's too important. Because I love this country," said Foxworthy, campaigning with Romney in Alabama.
Alabama results | County by county | Map
Gingrich threw a new wrinkle into the slow-Romney movement, suggesting he and Santorum team up to stop the former Massachusetts governor.
"There's a certain advantage I think right now in having both of us tag-team Romney, because neither one of us by ourselves can raise the money to match Romney," Gingrich said on the "Rick and Bubba" radio show in Birmingham.
But Santorum has suggested he wants Gingrich out of the race so the anti-Romney movement is no longer split between him and Gingrich.
Voters of Alabama and Mississippi have the opportunity "to step up for us and say we want this to get to a two-person race," Santorum said at a rally Monday night in Montgomery, Alabama. "We want this to be a race where we have the opportunity — not at convention, but before a convention — to nominate somebody who can stand up for the values that the people of Alabama believe in and vote for every day."
Mississippi results | County by county | Map
But if Santorum were to Gingrich on Tuesday, it undercuts his argument that he's the conservative alternative to Romney.
"Rick Santorum has a little bit of a danger zone," said Republican strategist Chip Saltsman, who managed Mike Huckabee's 2008 Republican presidential campaign. "He had a big win obviously Saturday in Kansas. He got a lot of delegates. Not a lot of coverage because everybody was focused on Mississippi and Alabama.
"If he comes in third in both places, then they're going to say, 'Well, is Newt now the conservative alternative?' And we'll start that story again."
Paul, a congressman from Texas, hasn't campaigned over the past week in either Alabama or Mississippi and doesn't appear to be much of a factor in either state.
CNN's Dana Bash, Rachel Streitfeld, Chris Welch and Joe Johns contributed to this report.
Link to article: