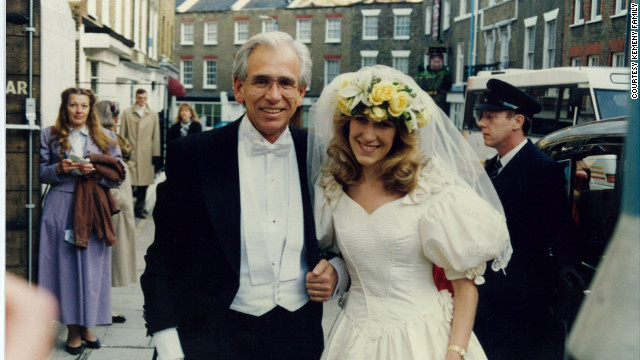 STORY HIGHLIGHTS
Tom Kemeny writes of his daughter's great efforts to help others battling addiction
Eva Rausing was bright, intelligent and devoted to her children, he says
"Her tragic death highlights the scourge of drugs" for rich and poor, a family statement says
The family suggests donations to drug awareness and treatment charities in her memory
London (CNN) — The father of Eva Rausing paid a moving tribute Tuesday to his "beloved daughter," whose body was discovered at her London mansion last week after her husband was arrested on drug charges.
The 48-year-old's death remains unexplained pending further tests, police said Friday, but the heiress's previous problems with drugs are well documented.
In his tribute, her father, Tom Kemeny, describes her as an "American philanthropist, loving wife and mother, who helped countless addicts, and children." The tribute was e-mailed to reporters by a public relations firm representing the family.
He also expresses the family's love and support for Eva Rausing's husband of 21 years, Hans Kristian Rausing, who was arrested on suspicion of murder after her body was found.
Recounting the details of her early life, starting with her birth in Hong Kong in 1963, Kemeny paints a picture of a bright and loving but very shy girl.
"We think she started experimenting with drugs in her late teens to overcome her shyness," he writes, explaining that this drug use affected her studies in California.
His daughter eventually recovered in the 1980s and dedicated much of her efforts to helping other addicts, he said, before marrying Rausing, the son of one of the world's wealthiest men, with whom she had four children.
The couple continued to support her "life-long vocation in helping those with drug addiction," Kemeny said, helping to "save" the lives of many other people — though "tragically not her own."
He also pays tribute to her sharp wit and intelligence, devotion to her children and care for others.
A Kemeny family statement released alongside his tribute said: "We believe her tragic death highlights the scourge of drugs and that it does not matter how rich, intelligent or beautiful you are, you can still be impacted and overcome by this terrible disease."
Kemeny said the best way to remember his daughter was to carry on her efforts to help those battling addiction, especially women.
"Eva would have wanted the m
1000
emory of her life to be used to benefit others facing similar addiction challenges in their lives," his tribute says. "The Kemeny family hopes this tribute will be used to draw attention to the tragedy of drug addiction and to generate awareness and financial support for this cause in the future."
The Kemeny family intends to set up a foundation in her memory in due time, it said.
The family statement also appeals for those touched by her death to donate in Eva Rausing's name to a local drug awareness and treatment fund, or to the UK charity Action on Addiction, which she supported for many years.
It quotes Nick Barton, chief executive of Action on Addiction, as saying: "Eva worked tirelessly for years, without any desire for public recognition and despite her own health issues, to help people and charities in the addiction field through her wonderfully generous support."
As of Friday, Hans Kristian Rausing had not been questioned because he was receiving medical treatment. Although he was arrested on suspicion of murder, police said there was no murder inquiry as yet.
His wife's body was found when police searched the couple's home, in an expensive London neighborhood, after he was stopped on suspicion of driving under the influence of alcohol or drugs.
He is the son of Hans Rausing, who is worth an estimated $10 billion, thanks to the family's connection to Swedish packaging giant Tetra Laval.
"Eva and Hans Kristian were a devoted and loving couple for the 21 years they spent together. They benefited thousands of lives through their personal involvement and philanthropic activities," Kemeny writes.
"They bravely battled their demons and supported each other and Eva will be a devastating loss to our beloved 'son' Hans Kristian, whom we love unconditionally with all our hearts."
See the original post -