STORY HIGHLIGHTS
"It is routine for planes to go in and out of borders," Turkey's president says
Turkey's prime minister and the Syrian military say the jet was shot down by Syria
The navies of both countries are searching for the missing pilots, the Syrian military says
Turkish-Syrian relations have deteriorated with uprising against Bashar al-Assad
Istanbul (CNN) — Turkey's President Abdullah Gul acknowledged Saturday that a Turkish military jet shot down by Syrian artillery may have entered Syria's airspace, according to the semi-official Anatolia news agency.
"When you take in to account the speeds at which jet planes travel over the sea, it is routine for planes to go in and out of borders," he is quoted as saying by the news agency.
"It is something that happens without bad intentions and that happens due to the high speeds."
The search for the plane continues, he said, speaking in Kayseri, central Turkey.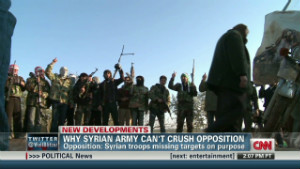 Syrian opposition forces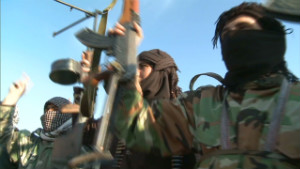 CIA and the Syrian opposition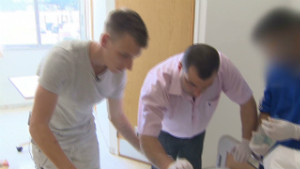 Former U.S. soldier aids Syria's wounded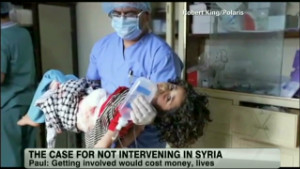 Should the U.S. intervene in Syria?
"It is not possible to cover something like this up. Whatever needs to be done will be done, without a doubt," he said, according to Anatolia.
A Syrian military spokesman said Friday that an unidentified aircraft entered Syrian airspace shortly before noon Friday at a very low altitude and high speed, and anti-aircraft artillery shot it down a kilometer from land.
While afire, the jet fell into the sea 10 kilometers, or more than six miles, from the shore of the town of Um Al-Tuyoor, the spokesman said.
The navies of both countries were cooperating in a search
1000
for the missing pilots, the spokesman said on state television.
Turkey's Prime Minister Recep Tayyip Erdogan said Friday that Syria "brought down our plane" and that a search for the pilots was "still ongoing."
"Turkey will make its final position clear once the event is fully uncovered and will take all necessary steps with determination," Erdogan said.
The Turkish government called an emergency meeting after the warplane went missing near the border.
Erdogan said Turkish assault boats and helicopters as well as Syrian boats were conducting a search along the Mediterranean coast between the Turkish province of Hatay and the northwestern Syrian city of Latakia.
The Turkish military said the plane took off from Malatya Erhac Center and lost radar communication over the sea near Hatay province, which borders Syria.
Erdogan said there was no information on the status of the pilots.
The jet's disappearance could spark a crisis.
Relations between the two neighbors have deteriorated with the bloody uprising against Syrian President Bashar al-Assad's regime.
Erdogan has repeatedly called on al-Assad to step down, and Turkey has withdrawn its diplomats from Damascus.
However, Gul suggested the two countries were still liaising despite their differences.
"We pulled out representatives from Syria because it was not safe. This does not mean we are not in contact with them (the Syrians)," he said, according to the Anatolia news agency.
More than 30,000 Syrian refugees have spilled onto Turkish soil, and Turkey is hosting a number of Syrian opposition groups.
Journalist Gül Tüysüz contributed to this report.
Original post -