At least 7 dead after quake rocks northern Italy
From Barbie Nadeau, For CNN
May 20, 2012 — Updated 1546 GMT (2346 HKT)
STORY HIGHLIGHTS
NEW: Italian PM promises help for quake victims "as soon as possible"
At least 50 people are injured; workers are sifting through rubble for survivors
The number of injuries is expected to rise as workers head toward remote villages
The USGS says a 6.0-magnitude earthquake struck northern Italy
Rome (CNN) — Italy's prime minister promised to move swiftly to help victims of a strong earthquake that struck northern Italy early Sunday, leaving at least seven people dead.
Mario Monti was in Chicago attending the NATO summit when the magnitude 6.0 quake struck about 4 a.m. (10 p.m. Saturday ET). In a statement from his office, he said he has designated the head of Italy's civil protection agency to lead his government's response to the disaster.
"All that is necessary will be done as soon as possible," Monti said.
The quake's epicenter was about 4 kilometers (2.4 miles) outside Camposanto, northwest of Bologna, the U.S. Geological Survey said. In addition to the deaths, at least 50 people were injured and a large but unknown number of people — believed to be in the thousands — have been displaced, said Elisabetta Maffani, a spokeswoman for the civil protection agency.
The fatalities included two people were killed in a ceramic factory in Sant'Agostino di Ferrara, about 30 km from the epicenter, Maffani said. Another person died when a work shed collapsed in nearby Ponte Rodoni di Bondeno.
A woman in Bologna died of a heart attack during an evacuation, a Moroccan national died when the factory he was working in collapsed and a sixth victim was found dead under rubble in Sant'Agostino, Maffani said. The body of a seventh victim was located under a collapsed house, according to Alessio Bellodi of the civil protection branch in Bologna.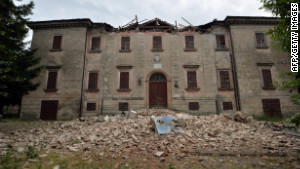 Authorities are still assessing damage in northern Italy.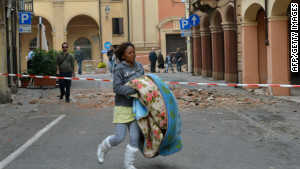 A strong earthquake in northern Italy left seven dead Sunday.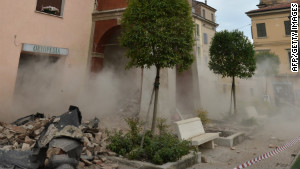 Smoke rises from a building in San Felice Sul Panaro.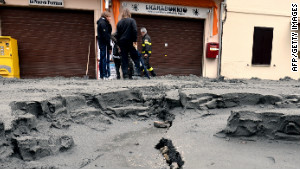 The damaged central street of San Carlo village.
Workers were still digging through rubble in hopes of finding survivors in Sant'Agostino, where the quake knocked down a church bell. And the civil protection agency said it expects to get more reports of injuries as rescue workers make their way to remote villages in the mountainous area.
The same area was struck by a 5.3-magnitude quake in January. And a 6.3-magnitude earthquake struck near the central Italian city of L'Aquila, more than 400 km to the south, in 2009, killing more than 300 and causing widespread destruction.
CNN's Joseph Netto and journalist Livia Borghese contributed to this report.

Read more: