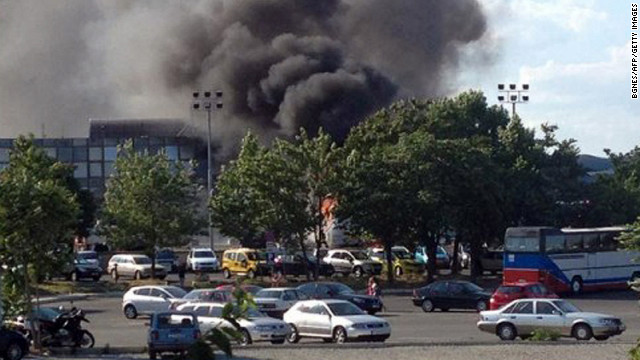 STORY HIGHLIGHTS
Authorities say they are investigating possibility of an explosive device on the bus
Death toll climbs to six, with about 30 injured, an interior ministry spokeswoman says
The explosion is "clearly a terrorist attack," Israeli Defense Minister Ehud Barak says
Israeli PM Benjamin Netanyahu points finger at Iran over the blast
(CNN) — A deadly explosion on a bus carrying Israeli tourists at an airport in Bulgaria is "clearly a terrorist attack," Israeli Defense Minister Ehud Barak said Wednesday.
"We have several people killed and dozens of wounded people," Barak said.
He said the attack was probably initiated by a group under the auspices of "either Iran or other radical Muslim groups" and named Hezbollah and Hamas as likely suspects.
"We are in a continued fight against them. We are determined to identify who sent them, who executed (the attack) and to settle the account," Barak said.
Vania Valkova, director of the Bulgarian interior ministry press office, said that at least six people were killed and about 30 injured in the explosion in a parking lot outside Burgas Airport, on the Black Sea coast.
Bulgaria's interior minister, who is at the scene, is considering all scenarios, including that of a terrorist attack, she said.
Another spokeswoman for the interior ministry said one possibility is that an explosive device could have been on the bus, but authorities cannot be sure of it.
A forensic team has begun an investigation at the scene, but much work remains to be done, she said. One bus was on fire after the blast.
Four people died at the scene and one in a hospital, the spokeswoman said. It was not clear what happened to the sixth victim.
Israeli Prime Minister Benjamin Netanyahu pointed the finger at Iran, saying it has been behind a string of recent attempted attacks on Israelis in Thailand, India and Georgia, among others.
"All the signs (are) leading to Iran," he said, according to a statement from his office.
Netanyahu said his country "would respond with force to Iranian terror."
Venelin Petkov, a reporter for bTV in Bulgaria, said that three of those taken to the hospital were in a critical condition.
The Israelis had just arrived from Tel Aviv and were supposed to go to a beach resort about 50 kilometers (30 miles) away, he said.
Local security expert Ivan Boyadjiev said on public Bulgarian National Television that Israel had warned of the possibility of an attack on Israeli citizens in Bulgaria several months ago.
He said it was the first such incident he could remember in Bulgaria.
The explosion comes on the 18th anniversary of the attack on a Jewish community center in the Argentine capital, Buenos Aires, in which 85 people were killed.
Argentina's top prosecutor last year blamed Iran for the 1994 attack, which also injured about 300 people. Israel also holds Iran responsible for the attack. Tehran has denied any connection to the bombing, which it has condemned.
Israeli Deputy Foreign Minister Danny Ayalon told Israel Radio Wednesday, "We cannot confirm yet that this is a terrorist incident, but Iran and Hezbollah have been responsible for incidents like this in the past."
The tourists' plane landed in Bulgaria at 5 p.m., the Israeli Foreign Ministry said.
Oren Katz, who was on a bus next to the one that blew up, together with his wife and three children, described a bloody scene.
"The moment we got on (the bus), we heard a very loud explosion. It was the third bus next to us. Everyone started running in all directions. There was a big chaos," he said.
"We took our children with us and ran as far as we could away from the explosion. My oldest daughter is handicapped, so I decided to run back in order to pick up her wheelchair.
"There was a big blaze of fire, and we were not allowed to come near. Suddenly, I noticed an unconscious woman laying next to me, very close to the burning bus. I picked her up together with another man, and we managed to drag her out of the fire that was about to catch her body in seconds.
"I cannot forget the sight of body parts scattered around the bus. Ambulances and fire trucks have just started to arrive."
Katz, who then ran back to his family so they could get to the safety of their hotel, said he saw at least six people around him who were injured and bloodied.
"I was not able to see anything of what was happening inside the bus that exploded. It was burning heavily," he added.
The travelers were on seven buses outside the terminal; they had arrived on the same flight from Israel, Katz said.
The Jewish Federations of North America, an umbrella group for local Jewish groups across the United States, offered its condolences to the victims of Wednesday's blast.
"We are shocked and saddened by the bus bombing targeting innocent young Israelis traveling in Bulgaria," said Kathy Manning, chairwoman of the board of trustees, in a written statement.
"On behalf of The Jewish Federations, we offer our deepest condolences to the families of the victims and stand shoulder to shoulder with all of the Jewish People in condemning this horrific act of violence."
CNN's Guy Azriel, Raja Razek, Stephanie Halasz, Ralitsa Vassileva, Jill Dougherty, and Jennifer Deaton contributed to this report.
View post: