Police raid Brazilian slums
From Shasta Darlington, CNN
October 15, 2012 — Updated 0141 GMT (0941 HKT)
STORY HIGHLIGHTS
Two slums are targeted in an operation aimed at cleaning up crime before the World Cup
More than 2,000 police and troops push through the streets of two shantytowns
There are no reports of deaths of injuries
Sao Paulo, Brazil (CNN) — Tanks, troops and police pushed through the streets of two shantytowns in northern Rio de Janeiro Sunday in a move to retake control of some of the city's most crime-ridden areas.
In the predawn operation, state authorities targeted the slums, or favelas, of Jacarezinho and Manguinhos with more than 2,000 military troops and police. They have a larger long-term goal: securing 40 slums before the World Cup in 2014, and keeping them safe for the Olympics two years later.
Police said they seized automatic weapons, guns and grenades and arrested dozens of people in a series of slum raids over the weekend.
There were no reports of deaths or injuries Sunday. On Saturday, police said five suspected drug dealers were killed during a slum raid.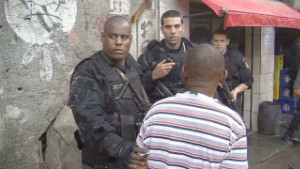 Rio secures favelas ahead of World Cup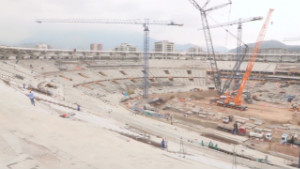 Brazil's World Cup countdown
Police have already taken over about 30 favelas since they began operations in 2008, but it's an uphill battle. About one-fifth of Rio's residents live in the city's 1,000 shantytowns, many of them perched on steep hills overlooking beachside condominiums.
Jacarezinho and Manguinhos are smaller favelas, far from tourist hotspots, but they became centers for organized crime and drug dealing after other slums were taken over by police.
Sunday's operation there stands in stark contrast to the invasion of the Alemao favela in 2010, when more than 30 people were killed in shootouts.
Police now announce days in advance when they're going to go into a community, to avoid major violence.
But critics say it simply gives criminals a chance to escape to another slum, or the suburbs.
Authorities said they planned to set up a "police pacification unit" in Manguinhos by December, and in Jacarezinho by January.
Three years ago, they took a similar approach in the notorious Cidade de Deus, or City of God, slum where military police backed by the army seized control from drug traffickers.
"They were abandoned for 40, 50 years," said Maj. Bruno Xavier of the police pacification unit there. "You can't recover that in three years."
But now, Xavier told CNN last month, they plan to prove to the slum's 40,000 residents that they're here to stay.

Part of complete coverage on
October 13, 2012 — Updated 1416 GMT (2216 HKT)

A pioneering study into malaria transmission in Kenya gives scientists new clues into how the deadly disease spreads.
October 14, 2012 — Updated 1322 GMT (2122 HKT)

Richard Quest says there are few better ways of discovering the faces of the real America than to visit by rail.
October 12, 2012 — Updated 1052 GMT (1852 HKT)

U.S. troops left last year, but it's far from peace time in Baghdad. And the Republican party remains the party of despised George W. Bush.
October 12, 2012 — Updated 1033 GMT (1833 HKT)

The EU wins for its role in uniting the European continent, and for spreading democracy and human rights through Europe.

To celebrate International Day of the Girl CNN spoke to some of the world's most remarkable women and asked: "What do you wish you'd known at 15?"

According to police estimates, 300,000 women and girls have been trafficked for sex work from Andhra Pradesh; of these just 3,000 have been rescued.
October 11, 2012 — Updated 1742 GMT (0142 HKT)

It may have one of the fastest growing economies in the world — but if you're young and out of work in Africa, the future remains bleak.
October 10, 2012 — Updated 2124 GMT (0524 HKT)

CNN speaks with USA Today Columnist Christine Brennan about new doping allegations brought against Lance Armstrong.
October 10, 2012 — Updated 1344 GMT (2144 HKT)

Australian Prime Minister Julia Gillard takes opposition leader Tony Abbot to task over allegations of sexism.

With World Cup qualifiers disrupting the momentum of club competitions, has the time come for FIFA to restructure its international calendar?

17f
Today's five most popular stories
582
fd
72

6f
1d65
View original -