Quest: Why I'll be singing 'God Save the Queen'
By Richard Quest, CNN
June 2, 2012 — Updated 1530 GMT (2330 HKT)
STORY HIGHLIGHTS
The idea of showing public emotion is a very un-British thing to do, says Richard Quest
But this is no usual time as nation rallies behind queen as she celebrates her diamond jubilee.
British people may not go gaga very often but when we do, we do it full throttle, he says
Quest: You may just hear me joining in as the crowd sing "God Save The Queen"
London (CNN) — A stiff upper lip. Show no emotion. Master of the understatement. The stereotypes about the British have been around since our ships first set sail to collect an empire. Certainly the idea of showing public emotion is a very un-British thing to do. We keep our feelings to ourselves … or at least we did.
Walking around London this weekend one is tempted to believe you've arrived in another country. Large men standing outside pubs singing "God Save the Queen." Okay, they were a bit drunk. Roads cordoned off so the bunting can be draped in time for street parties … my local hardware shop has set up a stall selling Union Jack paper plates, napkins and just about everywhere, flags, flags and more flags.
I am well used to seeing a fiesta of stars and stripes in the U.S., but to see so many Union Flags fluttering on buildings from the grand museums to the corner shop in London is a very unusual sight. So this is no usual time as the nation rallies behind the queen as she celebrates her diamond jubilee.
I am old enough to remember three jubilee celebrations. The first, was Her Majesty's silver jubilee in 1977. I still have the souvenir mirror I bought on a school trip to London. It cost me £2 — funny how we remember the little facts. I don't remember much else about it except we had time off school!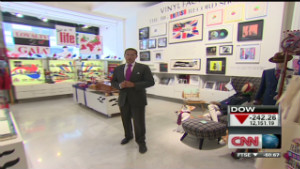 Cashing in on the royal brand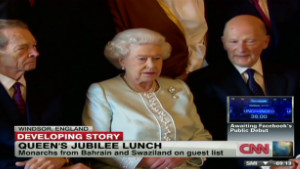 Questionable guests for Jubilee Lunch?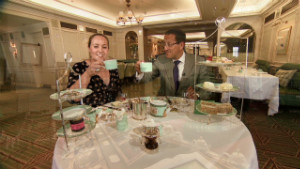 The history and etiquette of tea
And 25 years later for the golden jubilee, I was front and center covering the event outside Buckingham Palace for CNN. I have no shame in saying tears were in my eyes when the crowds massed around the Victoria Memorial outside Buckingham Palace singing the national anthem. The royals arrived on the balcony and Concorde took part in the flypast. Concorde has gone the way of the Super Stratocruiser and the Boeing 707 but the queen remains on the throne and, if the latest polls are to be believed, commands up to 80% support from the British people.
It is not hard to see why. In a social media era where we count contributions in 140 characters and have Facebook friends by the hundreds and frankly, none of it much matters, the queen stands for something much, more. Stability. Loyalty. Dedication. Commitment. While these concepts might sound old-fashioned in a here-today-gone-tomorrow world they are the backbone for what monarchy represents.
In her coronation broadcast in 1953 the queen pledged herself to a life of service, saying "Throughout all my life and with all my heart I shall strive to be worthy of your trust." It was a vow she repeated earlier this year before parliament, saying she would "rededicate myself to the service of our great country and its people now and in the years to come." How many of us rededicate ourselves to anything, let alone a promise we made six decades ago?
The British people may not go gaga very often but when we do, we do it full throttle. After the death of Diana, Princess of Wales in 1997 all national reserve was lost as we went into emotional collapse. And again, after the Queen Mother's death in 2002, hundreds of thousands of people lined up to pay their respects: The authorities had feared no one would show up!
While the royal wedding last year showed we like the glamour that a new star joining the royal team brings. Ultimately, for real deep-seated, honestly felt emotion, that goes to the British core, it is usually left to the very top senior royal, the queen. This weekend, those people who call Elizabeth their queen are saying "thank you."
So, in my coverage on Sunday and on Tuesday I will be taking all this on board as I bring you the majesty of the day, the fun of the moments and the celebration of the times. I know most of you are not subjects of the crown and so I ask you the indulgence of remembering I am British and this is the celebration of 60 years of my head of state. I promise my coverage will be fair, but it won't be neutral. Listen carefully when she goes past and you may just hear me joining in as the crowd sing "God Save The Queen."

Part of complete coverage on
The Queen's Diamond Jubilee
June 1, 2012 — Updated 1723 GMT (0123 HKT)

Excitement is building for what are expected to be jubilant festivities to mark Queen Elizabeth II's 60th year on the throne.

Since she came to the throne in 1952, the queen has met all 11 U.S. presidents elected during her reign, except Lyndon B. Johnson.
June 1, 2012 — Updated 1625 GMT (0025 HKT)

CNN iReport celebrates the British monarchy ahead of the Diamond Jubilee this weekend from June 2-5.
June 1, 2012 — Updated 1342 GMT (2142 HKT)

If you want to make a phone call you will have to find a big red box on the street — that's if you're prepared to brave the occasional dense smogs that afflict London.

From the amount of letters she has received during her reign to the distance she has traveled, we take a quirky look at the Queen's life in numbers.
June 1, 2012 — Updated 1504 GMT (2304 HKT)

Before Kate or Di there was Elizabeth. Nick Glass looks at some of the images that made Britain's queen a star.
June 1, 2012 — Updated 1348 GMT (2148 HKT)

Support for the jubilee is not universal: one republican argues that millions, like the Sex Pistols in 1977, want the monarchy consigned to history.
June 1, 2012 — Updated 1350 GMT (2150 HKT)

They have graced the outfits of monarchs for centuries, now Britain's Crown Jewels have gone on display in a special jubilee exhibition.
June 1, 2012 — Updated 1350 GMT (2150 HKT)

Known as much for his gaffes, brusque manner and eccentricities as for his charity and campaigning work, CNN puts the spotlight on Prince Philip.
May 25, 2012 — Updated 0823 GMT (1623 HKT)

Take our quiz to see if you can tell the Duke of Edinburgh's gaffes from other famous faux pas.

While no two years are the same for Her Majesty, CNN takes a look at how the queen fills her calendar.

2012 marks the 60th year in the reign of Queen Elizabeth. CNN will be in London celebrating with the British royal family. Follow the coverage of this majestic event with CNN.
Today's five most popular stories

View original: