Runoff set for Egypt's presidential election
By the CNN Wire Staff
May 28, 2012 — Updated 1457 GMT (2257 HKT)
STORY HIGHLIGHTS
A Muslim Brotherhood candidate competes with a former prime minister
Fewer than half of the eligible voters turn out for the first round
Cairo (CNN) — A representative of the old guard will face off against a representative of the Muslim Brotherhood in a runoff election for the presidency of Egypt, an election official said Monday.
Based on results from the first round, which was held Wednesday and Thursday, Muslim Brotherhood candidate Mohamed Morsi will face former Prime Minister Ahmed Shafik, the electoral commission official told reporters in Cairo.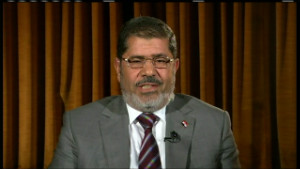 Egypt's Muslim Brotherhood candidate
Morsi received 5.7 million votes, followed by Shafik's 5.5 million, according to the commission. In all, 23 million of Egypt's 50 million eligible voters, or 46%, cast ballots in the first round of the election.
CNN's Ben Wedeman contributed to this report

View original article: