STORY HIGHLIGHTS
At least 71 have died in clashes and shelling across Syria, opposition activists say
Friends of Syria group says more should be done to impose sanctions
U.S., EU leaders raise pressure on Syrian president to bring end to 15 months of violence
France dismisses Syria's appointment of new government as "another masquerade"
(CNN) — Russia and China on Wednesday voiced their strong opposition to international intervention or efforts to change the regime in Syria, as Russian President Vladimir Putin visited Beijing.
"Both sides firmly oppose any attempt to resolve the Syrian crisis through foreign military intervention as well as promoting forced 'regime change' at U.N. Security Council and other venues," a statement from Putin and Chinese counterpart Hu Jintao said.
The joint statement comes as leaders in the European Union and United States seek to ratchet up the pressure on Syrian President Bashar al-Assad and bring an end to 15 months of violence.
But world powers remain divided on how to tackle the thorny issue.
Meanwhile, the number of civilians reported killed in shelling and clashes Wednesday climbed to 71, opposition activists said.
In their statement, Hu and Putin stressed the need for a domestic political solution to Syria's crisis.
"We firmly believe that the Syrian crisis has to be resolved fairly and peacefully by having all parties in conflict stop violence and start comprehensive political dialogue without foreign interference," it said.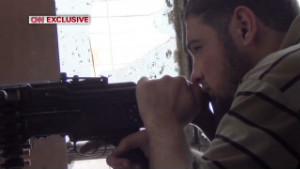 Rebels face off with government in Syria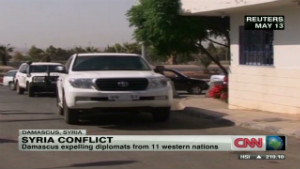 Syria boots diplomats from country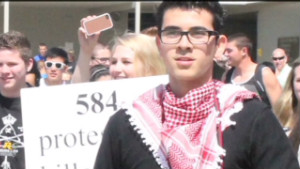 16-year-old organizes Syria rally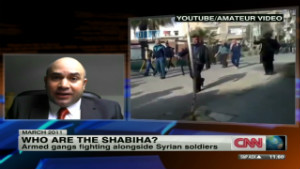 Who are Syria's Shabiha?
"Both sides call on the Syrian government to start political dialogue with all opposition groups as soon as possible, make an effort in promoting the normalization of the S
1000
yrian situation, and restore domestic security as well as law and order in Syria."
The two leaders also reasserted their support for the six-point peace plan negotiated by Kofi Annan, the joint envoy to Syria for the United Nations and the Arab League. Russia and China have previously used their veto power to block passage of U.N. resolutions condemning al-Assad's regime. Both countries have major trade deals with Syria.
White House Spokesman Jay Carney said the United States has been very clear on the need for Russia to play a "constructive role" in bringing about a political transition in Syria.
Annan is expected to address separate meetings of the U.N. General Assembly and the Security Council in New York on Thursday. He will also discuss developments in Syria with U.S. Secretary of State Hillary Clinton in Washington on Friday.
Members of the international Friends of Syria group vowed Wednesday to keep stepping up pressure on the al-Assad regime after meeting in Washington to discuss imposing tougher sanctions. But it said more needs to be done.
"Sanctions are having an impact," Clinton said in a written statement. "Businesses and organizations are cutting their ties with the regime, senior officials responsible for human rights violations have had their funds frozen and their travel curtailed, and we are disrupting the ability of the regime to receive weapons and other supplies."
In a public speech Sunday, al-Assad cited recent parliamentary elections as proof that his country is progressing.
And state-run media reported Wednesday that al-Assad has tasked an official with "the formation of a new government," though it was not clear whether the move would bring about any significant change.
Riyad Farid Hijab, who has been agriculture minister since April, was chosen for the assignment, the state-run Syrian Arab News Agency reported.
In recent months, the Syrian regime has touted what it calls "political reforms" in light of a yearlong uprising that has spawned international condemnation of the government's bloody crackdown on dissidents. Yet relentless reports of brutality and killings at the hands of the regime suggest that the Syrian crisis is far from over.
French Foreign Ministry spokesman Bernard Valero described al-Assad as "stubbornly deaf to the demands of his people" and dismissed the appointment of Hijab as "another masquerade, which does not meet the expectations of the Syrians and the international community."
The United States, meanwhile, is sending a delegation to Russia this week to press for tough action against the Syrian regime, led by special adviser Frederic Hof, a senior Obama administration official said Tuesday. The official was not authorized to speak on the record.
'Audacious steps' needed in Syria, Arab diplomats say
Wednesday's 71 civilian deaths included 28 in Hama province, killed in shelling of the villages of Qubeir, Maar Zaf and Kafar Zeita, the opposition Local Coordination Committees of Syria said.
There were also deaths in Latakia province, Idlib province, Homs, Deir Ezzor and elsewhere, the activists said. Syrians surround a U.N observer vehicle after placing the bodies of a girl and man on the car in Houla on Saturday, May 26, 2012. The photo is from the opposition Shaam News Network. Forty-nine children were among the 108 slaughtered in Houla on Friday, May 25, U.N. monitors say. The massacre in Houla, a suburb of the anti-government bastion of Homs, has reignited international fury against Bashar al-Assad's regime.
The body of a slain Syrian child lies next to other shrouded bodies at a hospital mortuary in Houla on Saturday in another photo from the opposition Shaam News Network. Al-Assad's regime insists it is not behind the massacre and blames terrorist groups. Syria has attributed violence on "armed terrorist groups" throughout the 14-month-old uprising.
Bodies of children lie in a Houla hospital morgue before their burial Saturday in another photo from Shaam News Network. Images from the town show a room crammed with mangled and bloody bodies of children — some with their skulls torn open.
U.N. observers visit a hospital morgue in Houla on Saturday before the burial of massacre victims. Opposition activists and residents blame al-Assad's regime for the bloodbath.
A Houla resident shows a body to a U.N. observer at a mosque in the central Syrian town. Some U.N. Security Council members condemned the attacks "that involved a series of government artillery and tank shellings on a residential neighborhood" as well as killings of civilians by close-range gunshots.
Syrians gather at a mass burial Saturday in Houla. "Those responsible for these brutal crimes must be held accountable," Kofi Annan, the U.N.-Arab League special envoy, said in a statement.
Massacre in Syria
Massacre in Syria
Massacre in Syria
Massacre in Syria
Massacre in Syria
Massacre in Syria
Massacre in Syria
HIDE CAPTION Photos: Massacre in Syria
Intense shelling from tanks targeted a residential area in the Damascus suburbs, the Local Coordination Committees said earlier, while heavy shelling, powerful explosions and heavy gunfire also tormented the anti-government bastion of Homs. Meanwhile, U.N. observers near Hisn Citadel, in Homs province, were fired on from a checkpoint, making them reluctant to inspect the area, the Local Coordination Committees said.
The city of Hiffa, in Latakia prov
1000
ince, suffered a second day of intense shelling and clashes, opposition activists said.
Regime forces tried to storm Hiffa again Wednesday, after fierce fighting Tuesday, the Local Coordination Committees and London-based Syrian Observatory for Human Rights said.
Despite the incessant turmoil, the Syrian government said it will let the United Nations enter the country and deliver humanitarian aid to people in need.
"After a long time of very intense negotiations, we now have an agreement in writing with the Syrian government on the scale, scope and modality of humanitarian action in Syria," said John Ging, director of operations at the U.N. Office for the Coordination of Humanitarian Affairs.
Houla massacre: Tipping point, but in what direction?
Syria also announced that it was expelling diplomats from 11 countries. The tit-for-tat move came a week after those nations expelled Syrian officials in response to a gruesome massacre in the town of Houla.
Syria's Foreign Ministry said diplomats from the United States, Britain, Switzerland, Turkey, France, Italy, Spain, Belgium, Bulgaria, Germany and Canada were being declared persona non grata.
Among them is U.S. Ambassador Robert Ford, who has been in the United States since February, when the U.S. government closed its embassy in Damascus.
But a U.S. official said Ford will keep working. "This certainly isn't going to stop Ambassador Ford from continuing his important outreach to the Syrian people," deputy State Department spokesman Mark Toner said in Washington. "He's going to continue our efforts to support a peaceful political transition for which the Syrian people have so bravely fought."
Residents of Houla, where at least 108 people were killed — almost half of them children — pleaded via Skype for basic necessities.
"For more than 10 days now, the criminal regime forces have cut off basic food items from entering Houla area," the statement from the opposition Houla Media Center said.
Al-Assad's regime denies responsibility for the massacre and has said it is fighting to stop "armed terrorist groups," the same vaguely defined entities it has blamed throughout the 15-month crisis.
Opposition activists and residents have said pro-regime forces shelled the city before going house to house, lining up residents and shooting them.
The United Nations says more than 9,000 people have been killed since the Syrian crisis began in March 2011. Opposition activists put the toll higher, with estimates of at least 12,000 to 14,000.
CNN cannot independently confirm reports from within Syria because the government strictly limits access by foreign journalists.
CNN's Steven Jiang, Elise Labott, Holly Yan, Salma Abdelaziz, Arwa Damon and Amir Ahmed contributed to this report.
Jump to original: