France's Sarkozy denies taking money from Gadhafi
By Alex Felton, CNN
March 13, 2012 — Updated 1430 GMT (2230 HKT)
STORY HIGHLIGHTS
Sarkozy calls the allegation that he took campaign funds from Gadhafi "grotesque"
He challenges Saif al-Islam Gadhafi to produce proof of donations in 2007
Sarkozy is running for re-election as president of France, with voting on April 22
Editor's note: Read this story in Arabic.
(CNN) — French President Nicolas Sarkozy has denied taking money from the Gadhafi family during his 2007 run for France's highest office, calling the allegation "grotesque."
He said the late Libyan dictator Moammar Gadhafi was "known for talking nonsense," and challenged his son Saif al-Islam Gadhafi to produce records of the donations.
Sarkozy was responding to allegations which surfaced on the Internet ahead of the French presidential election scheduled for April 22.
"I am sorry that a big channel like TF1 is taking from information from the documents from Mr. Gadhafi or his son," Sarkozy said in the interview, which aired on Monday night on TF1.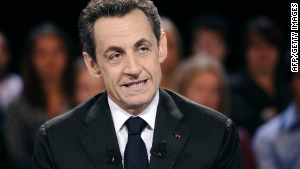 French president: 'Too many foreigners'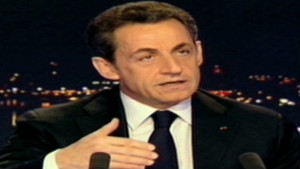 No shock in France: Sarkozy will run
"When one quotes Mr. Gadhafi, who is dead, or his son, who is standing trial, the credibility is zero. And when you drag up their accounts with these questions you are asking, you quite degrade this political debate," he said in an attack on interviewer Laurence Ferrari.
Gadhafi was toppled in a civil war last year and killed after several months in hiding. His one-time heir apparent, Saif al-Islam was captured by Libya's new authorities and is awaiting trial.
It's the second time in as many weeks that Sarkozy has made headlines with a nationally televised interview.
Last week, he said France has too many foreigners and is not integrating them properly.
"Today we have a problem," Sarkozy said on France 2 TV on March 6.
"Our system of integration is working worse and worse, because we have too many foreigners on our territory and we can no longer manage to find them accommodation, a job, a school," he said.
France places a premium on national identity, pressing the population to put "Frenchness" before religion or national background.
Sarkozy is running for a second term in office.
He faces a strong challenge from Francois Hollande of the Socialist party and a range of candidates from smaller parties, including the far-right Marine Le Pen.
If no candidate wins a majority in the first round, there will be a second round on May 6, with the top two finishers facing off.

Part of complete coverage on
March 13, 2012 — Updated 0929 GMT (1729 HKT)

One of the abducted boys featured in the viral video "KONY 2012″ says the time for justice has arrived.
March 13, 2012 — Updated 0343 GMT (1143 HKT)

In a village in the district of Panjwai, Afghanistan, inhabitants cope with the aftermath of the massacre by a U.S. soldier.
March 13, 2012 — Updated 1408 GMT (2208 HKT)

Marine Le Pen, leader of France's far-right National Front party, has officially entered the French presidential election race.
March 13, 2012 — Updated 1006 GMT (1806 HKT)

To most people, "Fukushima" evokes scenes of destruction and fear — but photographers have sought to show otherwise.
March 13, 2012 — Updated 0930 GMT (1730 HKT)

David Frum says Israel's anti-missile system has served it well but that an Iranian nuclear weapon would change the calculation.
March 12, 2012 — Updated 0933 GMT (1733 HKT)

Sohaib Athar unknowingly tweeted the bin Laden raid last year — and put the focus on the role of citizen journalists in a digital world
March 13, 2012 — Updated 1632 GMT (0032 HKT)

A Leonardo da Vinci mural unseen since the 16th century may have been found hidden behind a fresco painted by another artist.
March 12, 2012 — Updated 0320 GMT (1120 HKT)

Santino Sena used to slash and burn land in Brazil's Mato Gross state — now he's collecting seeds to restore indigenous trees.
March 13, 2012 — Updated 1715 GMT (0115 HKT)

The sunken treasure industry is worth billions of dollars but some experts fear it is damaging valuable archeological sites.
March 13, 2012 — Updated 0404 GMT (1204 HKT)

How an unknown UK author sent novel "Fifty Shades of Grey" to the top of the New York Times Best Seller List for ebooks.

Today's five most popular stories

See the original post: