Soccer star Muamba in critical condition after heart attack during FA Cup match
March 17, 2012 — Updated 2221 GMT (0621 HKT)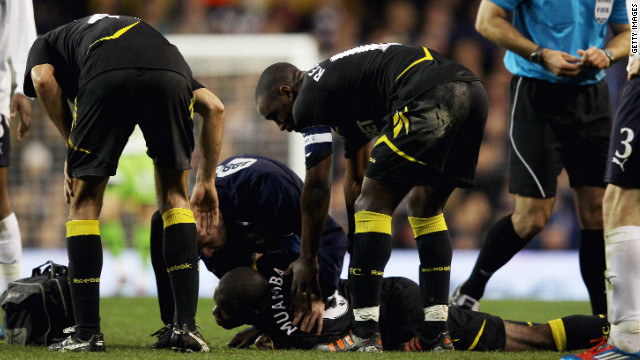 Bolton player Fabrice Muamba lies prone on the pitch after collapsing before halftime during the English FA Cup quarterfinal away to Tottenham Hotspur on Saturday.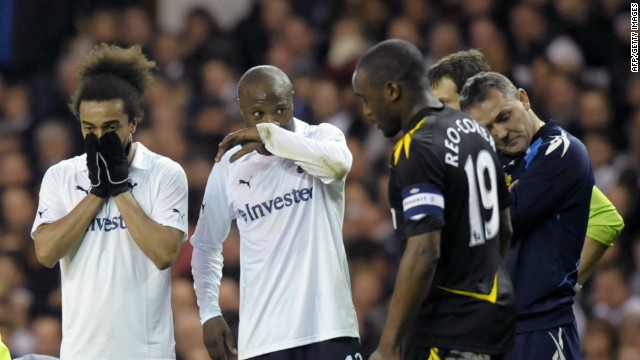 Players from both teams, as well as Bolton manager Owen Coyle, far right, watch as the England under-21 international is treated by medics.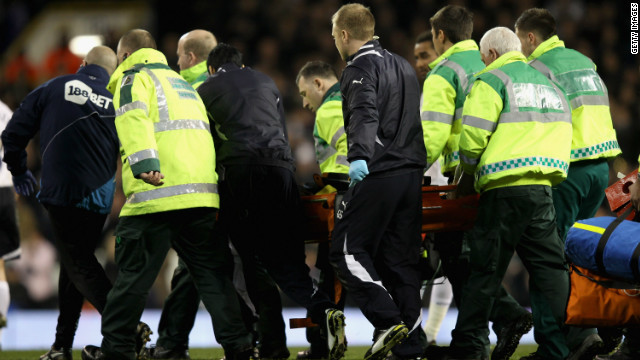 The 23-year-old was carried off the pitch at White Hart Lane and taken to a hospital in London. The game was abandoned.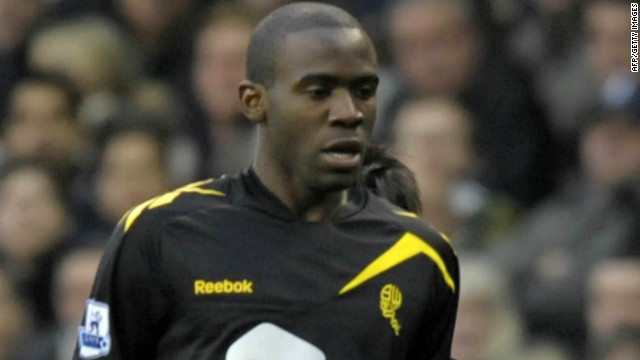 Muamba has been at the Premier League club since 2008, when he signed in an $8 million transfer from English rivals Birmingham.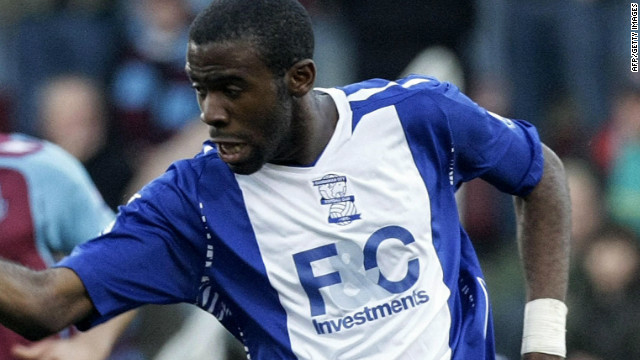 Muamba made his name at Birmingham City, where he made a permanent move in 2007 after impressing while on loan from English Premier League club Arsenal.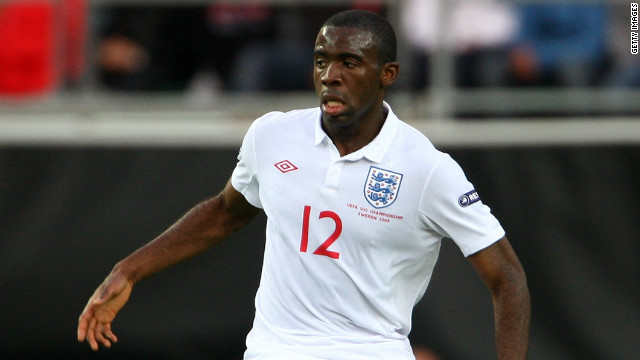 Muamba came to England in 1999 after his family left his homeland, the Democratic Republic of Congo. He represented his adopted country at under-21 level at the 2009 European Championship.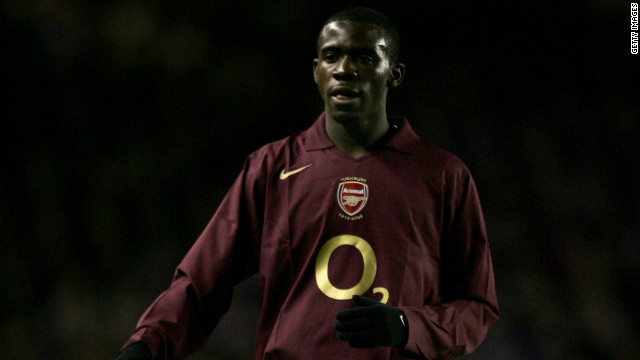 Muamba had limited first-team opportunities at Arsenal, but appeared in a League Cup match against Reading in November 2005.
muamba action shot
muamba england under 21
<<
<

1

2

3

4

5

6

7
>
>>
STORY HIGHLIGHTS
English FA Cup match abandoned after Bolton player collapses on the pitch
Fabrice Muamba is taken to hospital as paramedics try to revive the 23-year-old
Referee calls off quarterfinal match after consulting Bolton and Tottenham players
NEW: Bolton statement confirms Muamba is in a critical condition in intensive care
(CNN) — An English soccer match between top-flight teams Bolton and Tottenham was abandoned on Saturday after a player suffered a possible heart attack on the pitch before halftime.
Bolton midfielder Fabrice Muamba was taken to hospital, the Premier League club confirmed, after medics came onto the field to try to revive him.
It later released a statement saying Muamba was in "critical condition" in intensive care.
"Bolton Wanderers can confirm that Fabrice Muamba has been admitted to the heart attack center at London Chest Hospital where he is currently in a critically ill condition in intensive care," the club's website reported.
"No further information will be issued at this stage. The club has requested the media to respect his family's privacy at this time."
Terrible what happened with Muamba during the game. We're all praying for him
Tottenham's Rafael van der Vaart
The 23-year-old from the Democratic Republic of Congo, who has represented England at under-21 level, fell to the floor in the 41st minute with no other players near him.
Referee Howard Webb consulted both teams before calling off the match in London, which was a quarterfinal tie in England's prestigious knockout competition, the FA Cup.
Bolton said in a statement that the club would release more information when more was known about Muamba's condition.
His peers have been quick to show their support on micro-blogging website Twitter.
"For all those asking, I know as much as you do," wrote clubmate Stuart Holden, a U.S. international. "Waiting anxiously for updates from teammates. Fab is a fighter! prayforMuamba."
Tottenham's Rafael van der Vaart wrote: "Terrible what happened with Muamba during the game. We're all praying for him."
The last player to die after collapsing in a match in Britain was Motherwell's Phil O'Donnell, who suffered heart failure during a game against Scottish rivals Dundee United and passed away on the way to hospital.
The most high-profile such tragedy was when Cameroon international Marc-Vivian Foe collapsed during a Confederations Cup semifinal against Colombia in 2003 and died in hospital.
There have been two similar incidents more recently in Spain, involving Sevilla's Antonio Puerta in 2007 and Espanyol's Daniel Jarque in 2009.
Muamba grew up in Kinshasa, the capital of what was then known as Zaire. After moving to the UK in 1999 he began his football career with Premier League club Arsenal in 2005 but did not make a first-team appearance in the top division and was loaned out to Birmingham.
He signed a permanent deal with the Midlands club in 2007 before moving to Bolton a year later for a fee of 5 million ($8 million).

View original post here -