Source: Psychologist to examine Sandusky on Sunday
From Susan Candiotti and Ross Levitt, CNN
June 17, 2012 — Updated 0824 GMT (1624 HKT)
STORY HIGHLIGHTS
The defense says Sandusky may suffer from a disorder, which explains some behavior
The former Penn State assistant football coach is accused of sexually abusing boys
Sandusky remains free on bail and under house arrest during his trial
Bellefonte, Pennsylvania (CNN) — Former Penn State assistant football coach Jerry Sandusky, on trial on child rape charges, is expected to be examined Sunday by a prosecution psychologist, according to a source with knowledge of the case.
The examination is the result of a court order Friday allowing the defense to introduce testimony on whether Sandusky suffers from a disorder.
The development is not expected to delay the trial, which is scheduled to resume Monday.
The defense is expected to begin presenting their client's case this week after the prosecution rests.
In a motion, Sandusky's lawyers said the content of letters written by Sandusky to alleged victims may be a result of histrionic personality disorder, rather than the prosecution's contention that the letters were part of "grooming techniques" commonly employed by sexual predators.
The defense said it intends to offer expert testimony from a psychologist who "will explain that the words, tones, requests and statements made in the letters are consistent with a person who suffers from a histrionic personality disorder."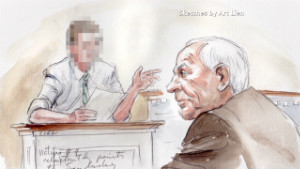 Sandusky on trial: Week one testimony
According to the National Institutes of Health, those with histrionic personality disorder "act in a very emotional and dramatic way that draws attention to themselves."
"The goal of a person suffering from this disorder in writing those letters would not necessarily be to groom or sexually consummate a relationship in a criminal manner, but rather to satisfy the needs of a psyche belabored by the needs of such a disorder," the defense lawyers wrote in their motion.
Judge John Cleland issued an order on Friday granting the defense motion, under one condition: that Sandusky "make himself available to (prosecutors) for the purpose of preparing rebuttal psychological/psychiatric testimony."
Sandusky remains free on bail and under house arrest during his trial.
The longtime Nittany Lions defensive coordinator faces 52 counts tied to what prosecutors say was his abuse of at least 10 boys over a span of 15 years. The state says Sandusky met many of his alleged victims through Second Mile, a charity for underprivileged youths that he founded.
Now 68, Sandusky pleaded not guilty and has maintained that his contact with children was not sexual.

Part of complete coverage on

The trial of Jerry Sandusky is now underway. Here's a look at some the key players, pertinent facts about the case and how it all unraveled.

Sandusky is accused of abusing at least 10 boys. What may be less familiar is a mental illness his lawyers are connecting with him: Histrionic personality disorder.
June 10, 2012 — Updated 1942 GMT (0342 HKT)

A jury of five men and seven women, along with four alternates, was chosen Wednesday in the trial of Jerry Sandusky, the former Penn State assistant football coach charged with child rape.
June 9, 2012 — Updated 2146 GMT (0546 HKT)

During the weeks Jerry Sandusky's trial unfolds in Centre County, Pennsylvania, 12 jurors and four alternates will be able to eat dinners with their families and sleep in their own beds.
January 23, 2012 — Updated 2338 GMT (0738 HKT)

HLN's Vinnie Politan analyzes the effect of Joe Paterno's death on Jerry Sandusky's sexual abuse case.
November 20, 2011 — Updated 2248 GMT (0648 HKT)

The college football world knew him as the defensive coach who helped Penn State win two national championships. But Jerry Sandusky saw himself as a "Great Pretender."
November 19, 2011 — Updated 0301 GMT (1101 HKT)

The charity founded by Jerry Sandusky says it is considering three options for its future, including dissolution.
November 15, 2011 — Updated 0203 GMT (1003 HKT)

Jerry Sandusky abruptly walked away from it all in 1999, just as abuse allegations began to surface

Today's five most popular stories

Original link: