Tropical Storm Ernesto expected to make landfall as a hurricane
By the CNN Wire Staff
August 7, 2012 — Updated 1541 GMT (2341 HKT)
STORY HIGHLIGHTS
NEW: Storm is expected to make landfall on Mexico's Yucatan Peninsula on Tuesday night
Nicaraguan officials say they are evacuating about 1,500 people from coastal areas
Ernesto's center is expected to pass north of the Honduran coast during the day Tuesday
Florence is no longer a tropical system
(CNN) — Tropical Storm Ernesto is expected to reach hurricane strength by the time it makes landfall on Mexico's Yucatan Peninsula on Tuesday night.
The Mexican government extended a hurricane warning north to the city of Tulum on Tuesday as the storm churned in the Caribbean.
Neighboring Belize issued a hurricane warning for its entire east coast.
In Nicaragua, government officials said they were evacuating about 1,500 people in coastal areas and had banned boats from setting sail.
As of 11 a.m. ET Tuesday, the storm was about 220 miles (350 kilometers) east of Chetumal, in Mexico, the National Hurricane Center reported. Ernesto was moving west-northwest at 14 mph with maximum sustained winds of 65 mph.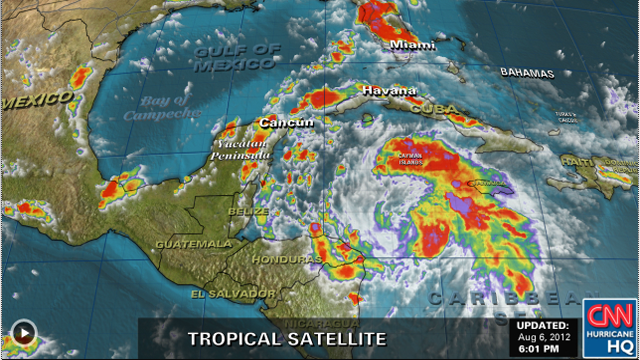 Track Tropical Storm Ernesto
The center of the storm was expected to pass north of the coast of Honduras during the day Tuesday b
1000
efore approaching the east coast of the Yucatan Peninsula by Tuesday night. It is then forecast to move across the peninsula into Wednesday and move out over the Bay of Campeche.
Between 3 and 5 inches of rain are expected along the northern coast of Honduras, the hurricane center said. Some mountains may see up to 8 inches.
Belize, the southern Yucatan Peninsula and northern Guatemala may get up to 12 inches of rain in some areas, which is likely to cause "dangerous flash floods and mud slides over higher terrain," the center warned.
Areas of Honduras and the Yucatan Peninsula are under tropical storm warnings.
Ernesto will cause a surge when it reaches the coast, increasing water levels by as much as 2 to 4 feet above normal tide levels in the area near and north of where the storm makes landfall, the hurricane center said.
Meanwhile, Florence weakened to a post-tropical system.
No coastal watches or warnings were in effect for that storm, which was about 1,515 miles (2,440 kilometers) east of the northern Leeward Islands late Monday morning, the hurricane center said. It was moving west at about 15 mph.
Maximum sustained winds dipped to 35 mph, and further weakening is forecast in the coming days.
NASA scientist links climate change, extreme weather
Lightning strikes outside NASCAR race, kills 1
Journalist Samantha Lugo and CNN's Sarah Dillingham contributed to this report.
Part of complete coverage on
Hurricane season 2012

People need to plan now for possible evacuations, power outages and other challenges as a new hurricane season approaches, the head of the Federal Emergency Management Agency said.

On the first day of the Atlantic hurricane season, forecasters at Colorado State University have increased their predictions for the number of named storms for the year but are still predicting a below-average number of storms.

A near-normal Atlantic hurricane season is expected this year, with nine to 15 named storms and four to eight hurricanes, says the National Oceanic and Atmospheric Administration.
April 5, 2012 — Updated 1005 GMT (1805 HKT)

Folks in hurricane-prone areas of the United States and Caribbean may breathe a sigh of relief this year. Forecasters say a less-active hurricane season is in store.
January 28, 2012 — Updated 1742 GMT (0142 HKT)

At least 669 people died in 2011′s 14 weather and climate disasters and thousands were injured. Although no two years are alike, it's important for Americans to be prepared for the worst.

After Hurricane Katrina's devestation in 2005, erosion has become a way of life for people in parts of Louisiana.

If severe weather is happening near you, let us know on CNN iReport. Send your photos and videos, but stay safe.
17f
Today's five most popular stories
542
fd
52

6f
559
Originally from: