STORY HIGHLIGHTS
NEW: A Miranda Lambert concert was interrupted, then resumed
121 reports of possible tornadoes across four states
3 states are in the "bull's-eye" Sunday for possible tornadoes
Five people die from storm-related injuries in Oklahoma, an official says
Read more about this story at CNN affiliate KSNW. Are you there? Share videos, pictures and stories.
Wichita, Kansas (CNN) — Three states face the most danger of possible tornadoes Sunday, as parts of the Midwest assess the damage from storms that left at least five people dead in Oklahoma.
The National Weather Service received 121 reports of possible tornado touchdowns Saturday and early Sunday in Oklahoma, Kansas, Nebraska and Iowa.
Kansas Gov. Sam Brownback told CNN Sunday that "97 tornadoes touched down" in his state; the National Weather Service has not confirmed the exact number of twisters.
While severe weather could continue to hammer much of the region, the states in the "bull's-eye" for the most dangerous conditions Sunday will likely be Wisconsin, Minnesota, and Iowa, said CNN Meteorologist Alexandra Steele.
Authorities call on everyone in the region to follow weather reports and make emergency preparations.
About 5 million residents from Wisconsin to Texas "need to be on guard," Steele said.
"Some of the bigger cities that could see isolated tornadoes, large hail and damaging winds are: Green Bay, Chicago, St. Louis, Little Rock, and Houston."
Five people, including two children, died from injuries related to a suspected tornado in the northwest Oklahoma town of Woodward early Sunday morning, said Amy Elliott of the state Medical Examiner's Office.
Woodward Mayor Roscoe Hill said 37 people were injured, including several critically, in the storm that struck the town shortly after midnight.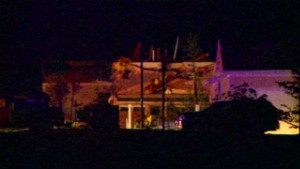 Powerful storm hits Iowa hospital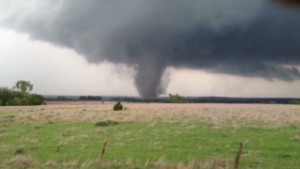 Tornadoes strike the Plains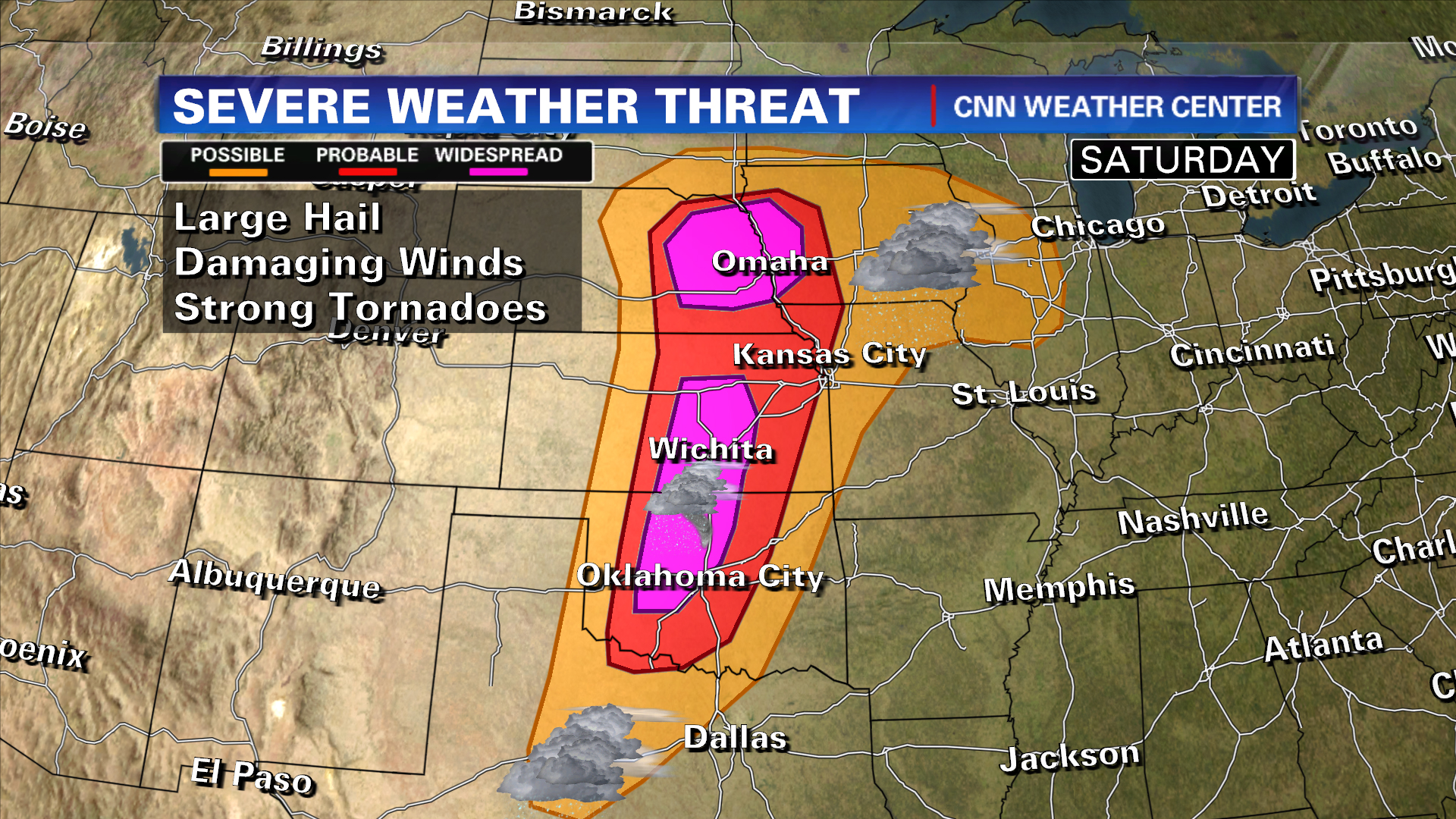 Severe weather tracker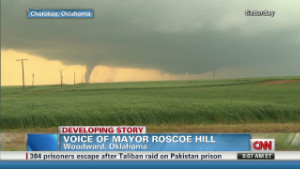 Mayor: Tornado caught us asleep
"This thing comes in the middle of the night. It caught us asleep, mostly," Hill told CNN.
A tornado warning siren that had sounded a day earlier failed to go off when the suspected tornado struck, Hill said. He said it was unclear if the warning system was damaged by the storm.
"Everything is dark. Buildings have been tore up," he said.
Hill said a suspected tornado touched down in front of his nephew's house, destroying several buildings, including a carpet store. There was also extensive damage to a new residential area in the town, he said.
"It's a typical tornado scene. It flattened the west part of our town," he said.
Brownback declared a state of disaster emergency to help speed relief to areas affected by storms.
He credits early warnings for the lack of fatalities in his state.
Warnings for this system came two days in advance, rather than just a matter of hours, and were "remarkably accurate," he said. "People took it very seriously."
Emergency officials, stymied by the dark and heavy rainfall as they tried to check on residents, planned to resume their search Sunday morning, Kansas officials said.
Despite extensive damage reported in many parts of the state, no deaths were reported, officials said.
About 11,000 customers were without power across the state, Westar Energy said.
In southwest Iowa, officials evacuated the entire population — roughly 300 people — of the town of Thurman after a suspected tornado struck Saturday, damaging or destroying three out of every four homes.
By early Sunday morning, many Thurman residents who took up temporary shelter at a high school in nearby Tabor were again in the path of a storm that spawned suspected tornadoes in neighboring Kansas.
"I can hear the rumbling in the distance. You can see the lightning. Whatever is in Kansas is coming this way," said Mike Crecelius, Fremont County's emergency management director.
A sign in a park that bears the town's name is one of the few things still standing, Crecelius said.
"That's about all there is. About 75% of the homes are damaged or destroyed," Crecelius said. "From the looks of things, there won't be a tree left in that town either."
Across the south and central Plains, storm chasers broadcast images of funnel clouds roaring through rural landscapes.
Residents in some high-risk areas received new warnings intended to grab their attention and prompt them to find safe shelter.
In the basement of 30-year-old Lacy Jay Hansen's home in downtown Wichita, Kansas, she and her family donned bicycle helmets and crouched against a corner as a suspected tornado churned its way toward her home.
"It turned right in the nick of time for us, striking this other neighborhood," she said. "But now there are other people we know and love in the path of it."
Through text messages and tweets, the Hansens learned that the storm that spared their house destroyed a friend's house several miles away.
Eleven months ago, Hansen, her husband and son were in Joplin, Missouri, visiting their ailing grandfather in a hospital when a tornado ripped through, killing 158 people.
"None of us were supposed to be there," she said. "We've always taken it seriously. But ever since then, we take it more seriously."
The tornado that tore through Joplin was one of 1,691 tornadoes that killed a total of 550 people in 2011, according to the National Weather Service. Last year was the 4th deadliest tornado year in U.S. history.
The tragedy in Joplin triggered stronger warnings by the weather service to life-threatening storms. More than 24 hours before the storms began rolling across the Midwest on Saturday, the service was warning residents of the storm's potential damage.
At the Marriott in downtown Wichita, Johnny Williams watched over eight children in an interior ballroom where they took shelter.
The group, from Oklahoma City, was in town for a basketball camp when the storm struck.
"We play together as a team, and we believe together as a team," Williams said. "We really believe everything will be all right."
The storm flooded parts of downtown Wichita, and McConnell Air Force Base also sustained damage, authorities said.
A roof collapsed at Spirit Aero Systems, which produces fuselages and other equipment for Boeing aircraft, and damage was also reported to Hawker Beechcraft, which manufacturers high-performance business jets and turboprop planes.
At the Wichita Mid-Continent Airport, a suspected tornado tossed baggage carts across the runways, overturned jetways and blew out windows, affiliate KSNW told CNN.
Country singer Miranda Lambert's concert Saturday night at the Intrust Bank arena in Wichita was interrupted by an apparent tornado. She was taken off the stage and fans were kept inside, said Lt. Jason Gill of the Sedgwick County Sheriff's Office.
Later, Lambert tweeted, "We made it y'all. Thanks for coming out and for making it through the delay with a smile."
Six mobile homes were destroyed in the county, officials said. Authorities were searching Sunday morning to be sure everyone was accounted for.
Earlier, a confirmed tornado struck a hospital in Creston, Iowa, blowing out windows and damaging the roof, John Benson of Iowa Homeland Security and Emergency Management said. There were no major injuries reported, and the patients were relocated to other area hospitals.
CNN's Susan Candiotti reported from Kansas and Rob Marciano reported from Oklahoma and Kansas. CNN's Josh Levs, Randi Kaye and Maria P. White reported from Atlanta.
From: