Sudan president vows to 'punish' neighboring South Sudan
By the CNN Wire Staff
April 19, 2012 — Updated 1025 GMT (1825 HKT)
STORY HIGHLIGHTS
Clashes between the two nations soar in the past week
Tensions intensified after South Sudan said it seized the disputed Heglig region
Sudan also claims ownership of the region
(CNN) — The Sudanese president Thursday vowed to "never give up" a disputed oil-rich region that has escalated tensions with South Sudan and sparked fears of the two neighbors' return to war.
Clashes between the two nations soared in the past week after South Sudan declared the disputed Heglig region is under its control.
Sudan also claims ownership and has lodged complaints with the United Nations and the African Union, urging them to pressure South Sudan to withdraw troops from its territory.
"We will never give up an inch of our land. And we have said it before, whoever extends his hand toward Sudan, we will cut it off," President Omar al-Bashir said during a rally broadcast on state media.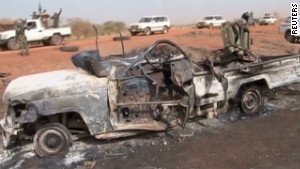 Air strike escalates Sudan tensions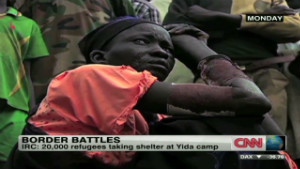 IRC: S. Sudan conflict creates crisis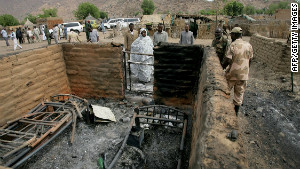 U.N. demands end to Sudan clashes
The international community has urged Sudan and South Sudan to return to the table amid intensified tensions. South Sudan split from its neighbor in July under the terms of a 2005 peace agreement that ended decades of a civil war.
During the defiant speech, the Sudanese leader told citizens that "Heglig is in Kordofan," referring to a border state owned by the nation.
"We will punish them … and it will be the last lesson for them," he said. "If they do not understand, we will make them get it by force. We extended our hand before for peace and unity. But they deceived us. Heglig is the start."
South Sudan did not immediately respond to the latest speech, but a military official vowed to retain a grip on the region a day earlier.
"We will hold this position," said Maj. Gen. Mangar Buong, a deputy commander for the South Sudanese military.
Tensions run deep between the two nations, which have outstanding issues despite their divorce last year.
Unresolved issues include status of citizens, how much the landlocked South should pay to transport its oil through Sudan, and the division of national debt, among others. The fate of disputed border areas is also a point of contention.
As long-simmering tensions between the two soar, rights group are warning of deteriorating humanitarian conditions.
"The deteriorating situation right now is making the overall humanitarian issues very challenging," said Alex Neve, secretary general of Amnesty International Canada.
Neve, who is in the South Sudan capital of Juba, said supply lines at refugee camps have been cut off and failure to get key supplies before the rains will lead to a humanitarian crisis.
In addition, there are reports of human rights violations.
"The refugees coming in across the border have consistent stories of aerial bombardments and ground attacks" from Sudanese soldiers, he said.
CNN's Amir Ahmed, David McKenzie and Faith Karimi contributed to this report

Source article: