STORY HIGHLIGHTS
NEW: An FSA official says an army general defected recently, but not a group of 30 soldiers
Turkish media: A Syrian general and two colonels are among the latest to defect
Tensions are high after Syria downed a fighter jet that had strayed into its airspace
Anadolu: More than 33,000 Syrians have fled to Turkey to escape violence
(CNN) — Syrian President Bashar al-Assad's military may have more cracks in its armor as dozens more soldiers, including a general and two colonels, have defected across the border, Turkish media reported Monday.
The 33 army defectors entered Turkey and were sent to a camp in southern Hatay province, the Anadolu news agency said, citing authorities.
Malik el Kurdi, the deputy commander of the rebel Free Syrian Army, speaking to CNN by telephone from the Apaydin refugee camp, said that within the past week a general and three colonels had arrived, but he had not seen a group of more than 30 new deserters.
The refugee camp houses the proclaimed leadership and other members of the FSA, the opposition force made up of Syrian army defectors.
"I receive soldiers daily," el Kurdi added. "There are rumors, but I haven't received anyone in that number."
The defections took place amid heightened tensions between Syria and Turkey, and the rest of the international community, over how to stop the bloodshed spurred by the Syrian government's crackdown on dissidents.
Syria gave no warning before shooting down a Turkish F-4 Phantom jet Friday, Turkish Foreign Minister Ahmet Davutoglu said Sunday.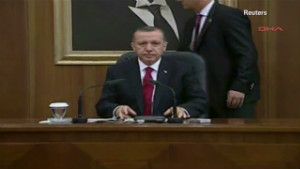 Syria shoots down Turkish jet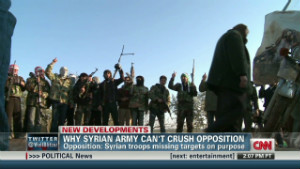 Syrian opposition forces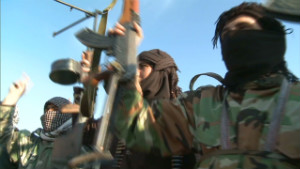 CIA and the Syrian opposition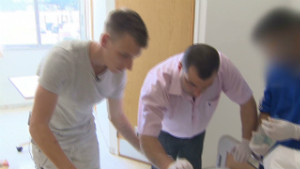 Former U.S. soldier aids Syria's wounded
The plane was unarmed, was not sending hostile signals, and was identifiable as Turkish, he said.
Syrian
1000
Foreign Ministry spokesman Jihad Makdissi said Monday that the plane was shot down in Syrian airspace. Turkey has said the plane had strayed into Syrian territory in a "short, unintentional violation," but was in international airspace when it was shot down.
Syria rejects Turkey claims on downed jet
Turkish search-and-rescue teams found the wreckage of the fighter jet Sunday in the Mediterranean Sea, about 1,300 meters (4,260 feet) underwater, Turkish Foreign Ministry spokesman Selcuk Unal said. There was no word about survival of the two-man crew.
Western leaders condemned Syria's downing of the fighter jet.
"We will work with Turkey and other partners to hold the Assad regime accountable," U.S. Secretary of State Hillary Clinton said. "Turkey has been a leader in the international community's effort to address the Syrian regime's violence against its own people."
On Saturday, Syrian state news agency SANA quoted a military spokesman as saying "the target turned out to be a Turkish military plane that entered Syrian airspace and was dealt with according to laws observed in such cases."
More than 33,000 Syrians have fled to Turkey to escape the violence in their country, Anadolu reported.
Since Syria's anti-government uprising started in March last year, more than 15,000 people in Syria, mostly civilians, have been killed, according to the opposition Syrian Observatory for Human Rights. The United Nations has said that at least 10,000 people have been killed in the conflict.
CNN cannot confirm specific reports of violence in Syria because the government has restricted access to the country by international journalists.
Opposition groups say the violence began when a government crackdown on peaceful protesters generated a nationwide uprising, including the armed resistance. Syria consistently blames "armed terrorist groups" for the violence.
Syrian downing of Turkish plane condemned; NATO to meet
More than 130 killed in Syria as regime forms new government
CNN's Salma Abdelaziz and Ivan Watson, and journalist Gul Tuysuz contributed to this report.
Link -