UK moves to deport alleged terror fund-raiser Abu Qatada
By Richard Allen Greene, CNN
April 17, 2012 — Updated 1508 GMT (2308 HKT)
STORY HIGHLIGHTS
NEW: Jordan promises to try Abu Qatada in public before civilian judges, the British say
British authorities accuse the radical cleric of links to al Qaeda
They have been trying to deport him to Jordan for years
The European Court of Human Rights blocked the deportation earlier this year
London (CNN) — British authorities have arrested Abu Qatada, whom they describe as an inspiration to terrorists that include one of the hijackers who struck on September 11, 2001, the Home Office said Tuesday.
The United Kingdom will resume efforts to deport him to Jordan, the government said.
Britain views Abu Qatada as a national security threat, but the European Court of Human Rights barred the country from deporting him because evidence gained from torture could be used against him in Jordan, where he has been convicted in absentia of involvement in terrorist conspiracies.
But Jordan has outlined a number of conditions that Home Secretary Theresa May said means the deportation could now go ahead.
Qatada will be tried in public before civilian judges, and the existing conviction against him will be quashed, she told British lawmakers Tuesday.
Jordanian Justice Minister Ibrahim Aljazy had said after Britain announced the arrest that Jordan would detain him and give him a full trial when he arrived in the country.
The two countries have been in talks since the Court of Human Rights ruling earlier this year. Both sides want him sent to Jordan.
But he can still appeal to stop his deportation, a process that could take months, May said.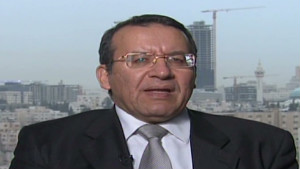 Jordan wants Qatada to return 'home'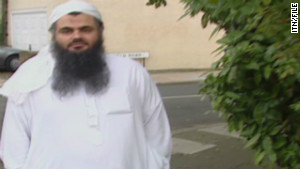 British dilemma over Abu Qatada release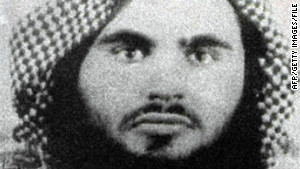 Radical cleric released from UK jail
Abu Qatada was released from a high security prison on bail in February.
He had been imprisoned in Britain for six years while the government worked to send him to Jordan, where he holds citizenship.
The British government claims Abu Qatada has raised money for terrorist groups, including organizations linked to former al Qaeda leader Osama bin Laden, and has publicly supported the violent activities of those groups.
Abu Qatada has denied the allegations against him.
Also known as Omar Othman, Abu Qatada arrived in the United Kingdom in 1993 and applied for asylum on the grounds that he had been tortured by Jordanian authorities. He came to Britain on a forged United Arab Emirates passport, according to court documents, and claimed asylum for himself, his wife and their three children.
The British government recognized him as a refugee and allowed him to stay in the country until 1998.
Abu Qatada applied to stay indefinitely, but while his application was pending, a Jordanian court convicted him in absentia on charges related to two 1998 terrorist attacks and a plot to plant bombs to coincide with the millennium.
He was released briefly in 2005 after the repeal of the anti-terrorism law on which he was being held. British authorities ordered his renewed detention that year under the Prevention of Terrorism Act, according to the European Court of Human Rights.
CNN's Kindah Shair in Abu Dhabi contributed to this report.

Part of complete coverage on

Christiane Amanpour returns this week to CNN — find out about her first shows, connect on social media and explore the archive.
April 16, 2012 — Updated 1613 GMT (0013 HKT)

As French voters prepare to elect a new president, Jim Bittermann explains what the main themes of the election are — and who is likely to win.
April 16, 2012 — Updated 1435 GMT (2235 HKT)

How speculation fills the void of official information about the death of a UK businessman in China.

China's move to double the trading band of the yuan against the U.S. dollar is lauded as a step toward an internationally traded currency.
April 16, 2012 — Updated 0715 GMT (1515 HKT)

For a moment we can hardly believe what is happening. Kim Jong Un addresses the public — something his father only did once.

Explore our Leading Women interactive to find the countries with most female entrpreneurs. Clue: They're not in a G20 nation.
April 13, 2012 — Updated 1433 GMT (2233 HKT)

For centuries, Timbuktu has existed in the Western imagination as a byword for the most exotic, far-flung place conceivable.
April 12, 2012 — Updated 1452 GMT (2252 HKT)

Inside the reclusive country, CNN's Stan Grant asks just how long can the Kim dynasty hold onto power.
April 13, 2012 — Updated 0012 GMT (0812 HKT)

Based on profits, Sony Corp. is an outstanding company — in life insurance sales and hit movies. But there's one weak point.
April 12, 2012 — Updated 0052 GMT (0852 HKT)

Egypt has suspended the assembly tasked with drafting a constitution. But what does that mean for reforms?

Today's five most popular stories

Visit link -